Image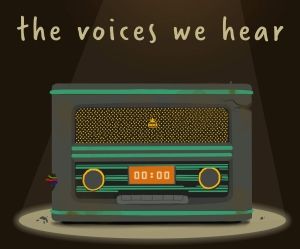 Production
Oli Savage and Louis Catliff (co-directors), Cate Hanlon (producer).
Performers
Molly Williams (A / Alex), Georgina Savage (B / Bea).
"Hello?"
Alex is a young woman at the end of the line.  She talks on a walkie talkie and listens to the short-wave radio, but the airwaves offer nothing in return.
She is tired of waiting, alone, rotting away along with her post-apocalypse house.  In the continuing silence and as dusk descends she shakes a pain killer from a bottle, then more … and more.
When a reply breaks through the static, she is understandably shocked.  Out there somewhere is Bea, scavenging her way around the wasteland.
They share tales of the past and survival.  Alex is, or was, the outdoorsy type, a gardener for grand National Trust properties.  She spotted impending climate change and is somewhat of a "prepper".  Bea is resourceful, constantly moving, coming across the dead and the euphemistically "unfriendly" as she searches creepy shopping centres and museums.
While former video gamer Bea and classic-loving Alex don't have much in common, they have one thing – they are alive, for now.
They have both lost people who were dear to them, and it is people in general that they miss most.  There is the possibility that they can actually get together but, when truths are told they are running out of time and allowing someone near is not without risk.
Staged in the upcycled Greenhouse venue, this immersive little piece does well to communicate, bringing home the issues not by being shouty but by reducing it to the one-on-one. 
It has the feeling of a camp-fire tale or a radio play, appropriately enough, as it becomes so dark that it is difficult to see the actors' facial expressions.  It is not beyond belief that the survivors might have just a few more solar-powered lanterns. Some props in the form of foraged and repurposed items would also add to the setting.
Well-performed and neatly devised, it is effective for all its economy.
Show Times: 2 to 26 (not 5, 13, 20) August 2019 at 9.15pm.
Tickets: £5
Suitability: 14+.