Image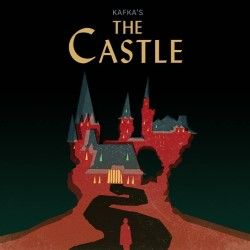 Production
Trevor White (director), Alex Hackitt-Anwyl (creative producer), Ruth Phillips (movement director & choreography), Alex Milledge (puppet maker & design), Jack Wood (set construction), Christopher Mitchell (original score), Heidi Aurora (lighting design), Bartholomew Gwyn (artwork)
Performers
Sam Hill (K), Gabrielle Nellis-Pain (Frieda), Stephen Smith (Jeremias), Joe Furey (Arthur), Margaux Kariayianni (mayor / teacher), Kay Dent (Amalia/Barnabas)
On a dark and stormy night, a stranger arrives in a small village at the foot of a huge, forbidding castle. He has battled through the snow, but gets only a frosty welcome from the inhabitants.
This opening scene of The Castle is beautifully depicted with some very skilful puppetry; it is a reminder of the uncanny power of a puppet, in the right hands, to convey an emotion with a simple movement of the head or hand. The puppet character appears again throughout the performance, and sometimes outshines other members of the cast.
The Castle is the story of the stranger's struggles with a remote authority shielded by a faceless, inept bureaucracy. He has come to take up his appointment as a land surveyor, but the paperwork seems to have been sent out in error. In a series of failed attempts to establish his place in this strange society, he seeks out the officials, secretaries and assistants who seem to be in control, grappling with an amorphous hierarchy; people may have positions and titles, but nothing ever seems to get done, and written messages take the place of direct human contact.
The challenge in staging any work of Franz Kafka is that the original narratives are often a bit short on dramatic opportunity; where the central themes are alienation and frustration, characters tend to find themselves over and over again in variations of the same situation, repeating more or less the same actions and getting nowhere. For this to be interesting on stage, much depends on the ability to create an atmosphere of dread and menace which grows with each frustrating encounter building to a dramatic conclusion.This production never quite manages to build that tension and release, not helped by the fact the Kafka never completed the work. 
However, this production benefits greatly from a very strong central performance, while all the other actors work very hard to bring life to a parade of other characters, without always having a lot of help from the script. Characterisations that were more odd, exaggerated or disturbing might have contributed more to the creation of a dystopian mood. What most audiences will long remember is the exquisite puppetry which shows much promise for future productions by this group.
August 12-17 at 16:10