Image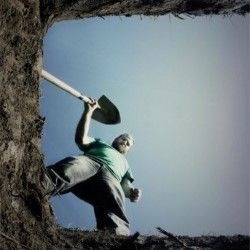 Company
Guy Masterson - Theatre Tours International
Production
Owen O'Neill (writer), Guy Masterson (producer)
Performers
Alan McKee (Connor), Simon Nehan (Eurig)
Shaving the Dead is an outstanding piece of comedy writing and a masterclass in comic timing.
Centre-stage throughout the proceedings is an over-sized coffin, flanked by two undertakers. On one side sits Eurig, a lugubrious Celt. On the other is Connor, a gruff Ulsterman. They are waiting for someone to arrive for the burial, but it is all a bit dodgy; they have been paid an extra £5,000 to pick up the coffin from an empty and deserted house.
The plot itself is of no great significance. But while they wait, they have the time to reflect on the past and to ponder on the present. They remind each other of all the bizarre funerals they have had to organise in the past. They casually reminisce about violent deaths. There are revelations about troubled family histories and present-day marital difficulties, which are shocking and hilarious in equal measure. Their profession deprived them long ago of the ability to smile, so every line gets a dry, deadpan delivery and an equally impassive reaction from the other person. The contrasting accents make a huge contribution to the humour. When silence briefly falls, it is just a springboard for the next flight of idiotic musings and inane speculations, which are normally about sex.
Shaving the Dead is a glorious mash-up of Waiting for Godot and Men Behaving Badly. And Joe Orton would have loved it.
August 15-25 at 12:30