Image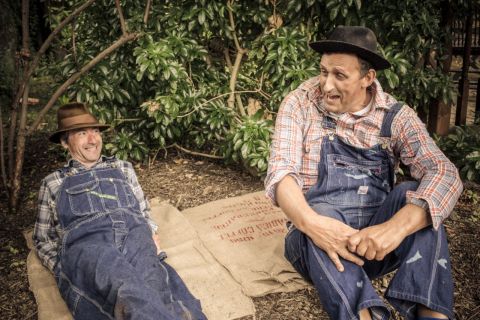 Company
Fringe Management
Production
John Steinbeck (writer), Nigel Miles-Thomas (director and adaptor), Mahalia Jackson (music)
Performers
Nigel Miles-Thomas (Lennie), Michael Roy Andrew (George)
Steinbeck's original novella was an iconic tale of the Great Depression, looking at the lives of two men who each, in their own way, need the other to survive as they make their way in a difficult world. Adapted as a two-hander for stage, this is a lighter version of the tale which, while evoking the struggles of the time period, doesn't always pull off the points that made Steinbeck's original such a hard-hitting piece.
Physically the two actors are perfectly cast in the roles of Lennie and George. The underlying frustration with his life that seethes in George's view of the world, is fiercely brought to life by Andrews. Miles-Thomas as Lennie is visibly imposing in comparison, and it is easy to understand why the unseen characters may be intimidated by Lennie who does not recognise his own strength.
What doesn't quite work is when the unseen characters are addressed: their presence is definitely missed and the onstage discussions with them cause the text to lose impetus, forfeiting the punch of key moments. Nonetheless, the end when it comes is shocking and the impact of this stays long after the show has finished.
Times: 1-12, 14-19, 21-26 August, 1:30pm