Image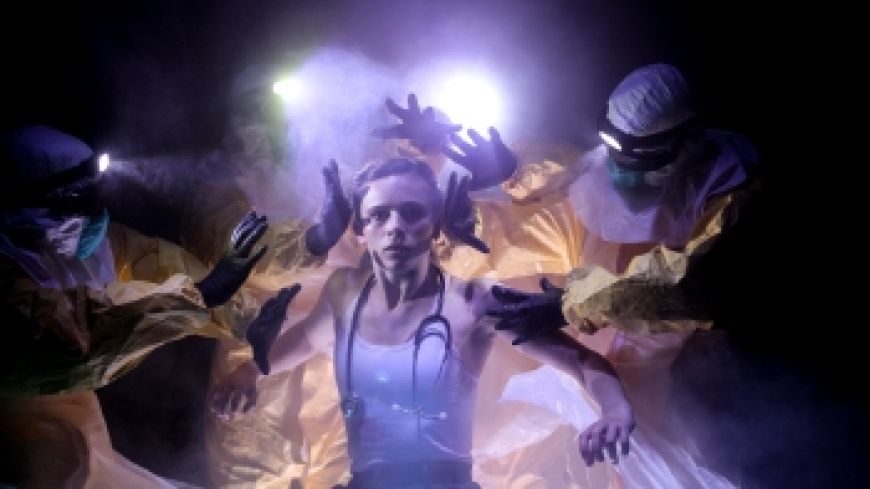 Production
Devised by the ensemble. Finn Morrell (director), Dominic Roocroft (composer and sound designer), Sam Penn (lighting designer), Adam Khazmuradov and Juliette Valerio (assistant choreographers), Blythe Brett (assistant designer).
Performers
Jack Bentinck, Eden Harbud, Lea Orož, Zoe Villiers, Sam Williams.
There is something very wrong out there in the darkness. 
Through waves of subsonic sound hazmat suited figures emerge, their sickly green headtorches sweeping the auditorium in slow, searching arcs accompanied by a mix of insectoid chittering and Geiger counter tick.
Flo snaps into the present, disorientated and breathing hard as the nightmare visions are replaced by the only slightly less terrible reality. Wearing scrubs, she is treating patients in a camp for displaced persons amidst the buzz of flies and scenes of organised chaos.
She is a long way from home, finding it hard to fit in, even harder to continue. When her Mum phones to ask how it is going she finds herself thinking about just that – going.
Just when she appears to be running on empty, there is bad news. She may only be a junior doctor but she is needed to work the nightshift. Devotion kicks in; she can do it, she just needs to focus.  It is going to be a long night.
In warping acts we witness scenes of struggle and escape, a homeward flight which sees her exposed to news broadcasts of worldwide crisis. She drowns in refugee boat people, disorientated by urban violence and the normality of catching up with social media. Unable to switch off her capacity to care, she needs to decide what the morning will bring.
It is visually arresting physical theatre, twisting real and unreal, hope and fear. The movement is energetic, precise and relentless, synched with a filmic soundscape. At times like a conducted ballet and at others as if the characters are mainlining electricity. There are movements that appear superhuman as cast members are pulled and dragged to disappear and re-emerge. This is aided by the use of simple hand held or mounted lighting to miraculous effect.
The imagery in the work is intentionally fragmented, and while it is stunning to look at, the narrative needs to be clearer to take the audience on the journey.  There are parts that are too open to interpretation.
 A world premiere at the Fringe, Nightshifter awakens to an exciting tour ahead.
Show Times: 18 to 20 August 2019 at 5.10pm.
Tickets: £12 (£10). 
Suitability: 12+.