Image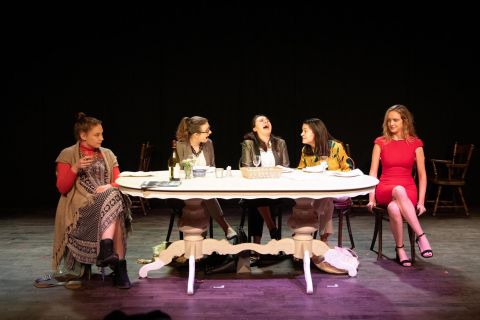 Company
Fourth Wall Theatre
Production
Niamh Collins (writer & director), Hetty Hodgson and Charlie Whitehead (producers)
Performers
Esther Levin (Sally), Katie Cervenak (Vera), Anne-Marie Garrett (Jean), Emma Broadhurst (Sandra), Nicola Samosa (Lorena), Calum Maclean (waiter)
We are all likely to have been to a Class Reunion, a decade or more after leaving school - so you can picture the scene.  Four women now in their prime, the autumn of their lives, are meeting for lunch, thirty years since they worked together as colleagues and close friends.  
First to arrive is Sally, tall, artistic, hair in a messy bun, and rather short-tempered, barking a drinks order at the quietly unassuming waiter. Perhaps it's the nerves. She is joined by Jean, bright and bubbly with a warm smile, Vera, cool and controlled in a smart silver jacket, followed by the blonde and breezy Sandra and her elegantly slim daughter, Lorena. The table is set, a bottle of wine is poured and the conversation begins.
After all the initial pleasantaries ("So nice to see you again"), they reminisce about the old days when Vera was their Maggie Thatcherish Boss. Quickly the chat moves on to their shared experience, motherhood, asking after each other's children and husbands: "How is Don?" Vera asks Sally, "Haven't seen him for 25 years!" is the sharp retort. 
The girly gossipy is reminiscent of the Sunday Brunches with Carrie and co. in "Sex and the City."  But as the Ladies discuss their views about parenting skills, baking cakes, balancing careers and childcare, criticism and argument leads to bickering, bitching and blame.  
Their distinctively diverse personalities are captured with such finely-painted perception, from their stylish clothes to tone of voice and mannerism. The young cast bring a unique, ageless sense of charisma and energy to the characters, each portrayed with extraordinary maturity and professionalism.
The fast paced dialogue  bounces across the restaurant table like a ping pong  ball, shifting from sarcastic wit to heartfelt emotion with breathtaking realism. Exquisitely crafted, this crazily comical, powerfully poignant play will make you laugh and make you weep. This is a blisteringly bold debut by Niamh Collins, a 19 year old English student, who surely has a star studded theatrical career ahead of her. 
Blending the finest, quality ingredients, "Ladies who Lunch" is a deliciously appetising, bittersweet and spicy theatrical treat to start the day.
Show times:
2 - 16 August, 2019 @ 10:05
Tickets: £9.00 (£7.00)
Age guidance: 12+