Image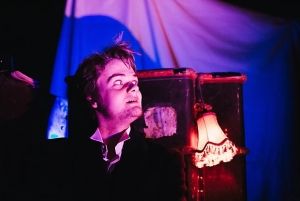 Company
Flat Packed Theatre.
Production
Ben Oldfield (writer), Ciaran Clarke (technical designer), Jasmine Cole (producer).
Performers
Michael Tonkin-Jones.
We are met by Albert, the frock-coated stage doorman. The theatre is dark, empty, waiting for the actors to bring spirit.
For now, it's just us and the ghosts whispering their stories. They don't frighten Albert in this place he knows well, having even trod the boards, and he is worldly enough to know that people are all the same.  Everyone is hiding something and all are at least two-faced.
Some faces he won't forget.  A doorman has discretion, allowing people to slip inside away from prying eyes.  One of these is Dr Jekyll, a brilliant scientist, given to the betterment of his fellow man but enamoured with showgirl Daisy. He buys her affections and she brings out his naughty side. Enter Mr Hyde, more interested in his own pleasures, he can set a table on the roar with his flashing eyes and dirty jokes and draws Daisy to him.
The good Doctor has done something terrible in the interests of science and in looking for utopia now stares into the abyss.
This is a reworking of Robert Louis Stevenson's "The Strange Case of Dr.Jekyll and Mr. Hyde". Edinburgh is of course the perfect location, with its duality of Old and New Towns, and we sit yards from the haunt of Deacon Brodie, Town Councillor by day and burglar by night, the inspiration for the tale.
This one man show sees Michael Tonkin-Jones split himself into seven characters in a mix of gothic ghost story and vaudevillian song, dance, puppetry and ventriloquism. Technology adds effects, allowing him to shadow-play multiple roles at the same time, and pull off a couple of notable "illusions". 
The lighting, effects and sound cues are triggered by the actor using bespoke devices.  Beyond novelty and curiosity, it is questionable what this adds to the audience experience over a traditional setup. If it allows the company to explore their creativity however, then more power to them.
It's inventive, visually pleasing and well executed, but the ethereal theme struggles to contain the story, leaving the piece feeling a little uneven in tone and pacing.
Show Times: 1 to 25 (not 12) August 2019 at 11.30am.
Tickets: £9 (£8) to £10 (£9).
Suitability: 12+.