Image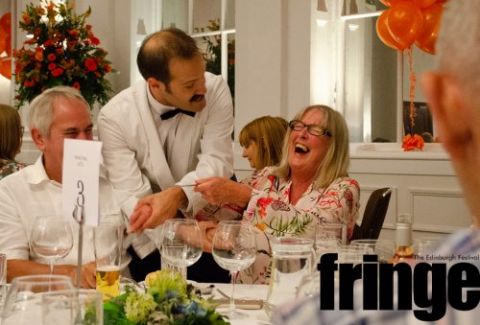 Company
Interactive Theatre International
Production
Interactive Theatre International (Devised, Produced and Presented by)
Performers
Jack Baldwin (Basil), Oliver Harrison (Manuel), Karina Garnett (Sybil).
There are a few Fawlty Towers tributes floating around the Fringe this year. But Interactive Theatre International is the world's longest running 'Dining Experience.' This is their twelfth visit to the Edinburgh Fringe and the show itself has been running for twenty-two years all over the world. This is the true original and it shows.  
The award winning sitcom, created by John Cleese and Connie Booth, left a lasting impression on British television after only twelve episodes. Walking into the InterContinental's foyer transports the audience into the charming silliness and sheer insanity of the Fawlty Towers world.
The cast are incredible, from their voices to their physicality and mannerisms. Not to mention, the very convincing stage fighting techniques. So much so, it is easy to forget about Cleese, Booth and Sachs. Remaining deep in character the playful atmosphere creates a series of ludicrous events; the shining of a bald man's head, a rendition of 'Y viva España' from atop a table, an escaped rat, a fire extinguisher, a fish forced up the back passage and of course the iconic Nazi walk. They cover all the classics as well as creating improvised connections with the crowd. All actors constantly circulate the room ensuring that as well as the big incidents we can all share in, there are plenty of personal, one-on-one interactions.
With the help of real wait staff, the audience are eventually treated to a lovely three course meal all included in the ticket price. A starter of fresh tomato soup with parsley and bread thrown across the room. A delicious chicken breast with creamy mashed potato and for desert, a berry compote tart filled with chocolate which is perhaps a little too sickly sweet. For the most part, a very enjoyable meal with a wide choice of alcoholic beverages.
The performance obliterates the fourth wall and is a joy to behold for any age. From the five-year-olds, to the birthday celebration of ninety-two year old Nana. This is a great opportunity to interact with your favourite sitcom characters.
Dates and Times: 1-26 August, 2pm and 7:30pm
Price Range: £52 - £67.50
https://tickets.edfringe.com/whats-on/faulty-towers-the-dining-experience
#FaultyAtTheGeorge