Image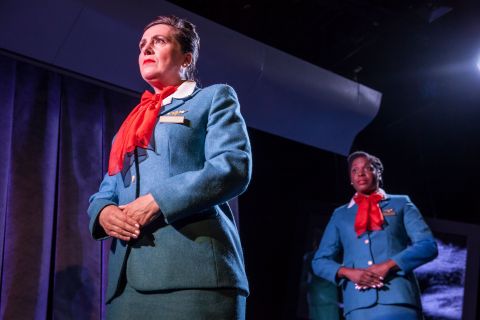 Company
Traverse Theatre Company
Production
Stef Smith (writer), Bryony Shanahan (director), Kai Fischer (set, costume & lighting design), Alexandra Faye Braithwaite (composer & sound)
Performers
Louise Ludgate (Jane), Amanda Wright (Toni)
"When I walk into a room, in my uniform, there is a look that gets thrown my way, .. a symbol of sex appeal and sightseeing. …. Whenever the sign is on, fasten your seatbelt securely …." 
With hair pinned up in neat chignons and gleaming Colgate smiles, two flight attendants present the safety routine with choreographic precision, a scene reminiscent of the BBC show "The High Life" set around the camp, crackpot antics of the Scotia Airways cabin crew.  But as the narrative unfolds, don't expect a sitcom starring our two glam girls at 30,000 feet.  As 40-something colleagues and close friends, Jane is a married mother of young children (from whom she is keen to escape for days at a time), while Toni is eager to get home to her boyfriend, but what exactly is going on behind closed doors?
The Economy class stage set is minimalist yet effective with a row overhead baggage bins, TV screen windows, curtains and seating.  The high flying women share an almost alcoholic passion for drinking to excess, downing bottles of merlot and chardonnay to drown their sorrows.  From "Delhi and Detroit, Moscow and Melbourne," they are stuck overnight, overseas, where empty Hotel rooms are f***ing shitholes. 
An oft-repeated line is "Did you see the news?" without any reference.  As professional globetrotters, they experience the constant threat of danger: terrorism, civil wars, earthquakes.  As cracks begin to show in Jane's bathroom wall, a gap in her friendship with Toni appears to widen, and she unties her red chiffon scarf before it strangles her.  
Shifting between light-hearted humour and dark despair, Stef Smith's fast-paced, lyrical dialogue is certainly an ambitious scenario about how today's invasive world affairs are reflected in the dysfunction and disintegration of these women's personal lives in the air and on land.  Unfortunately, structured like a vaudeville double act, their intertwining, mainly static, monologues, all angst and anger, lack real emotion and theatrical action.  Although this topical, hard-hitting play takes off with a dramatic thrust, Enough swiftly jets off in the wrong direction.
Show times:
1 - 25 August - for daily times, see Fringe programme
Ticket prices: £21.00 (£15.50/£15.00)
Age guidance: 14+