Image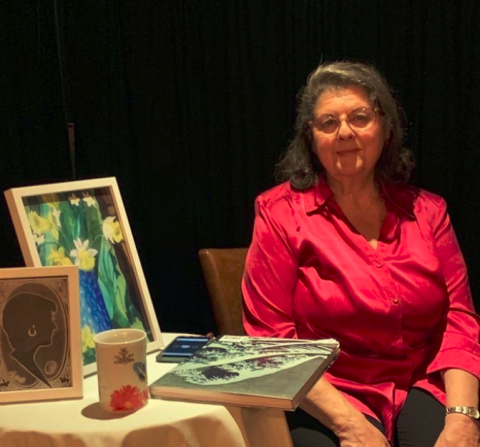 Production
Millie Kieve (writer), Barbara Houseman (director)
This is a real life family story about how a lovely dream holiday turned into a nightmare.
Sitting at a table, with a candle, flowers and a photograph of her daughter, Karen, Millie Kieve quietly explains that it is best to share a bad experience from which may come some good. 
The narrative is told in the third person to offer a more objective perspective with the introduction of a family, a hard working mother and father, their daughter and three sons. It is in March 1985 when the daughter, aged 20, complains of a stomach pain which the GP diagnoses (incorrectly, it transpires) as Crohn's disease and prescribes a strong dose of drugs.
A family Mediterranean cruise on The Canberra is far from the relaxing holiday expected when the daughter takes ill, suffering mood swings and panic attacks.  Little did her caring close family realise that this was the starting point of a spiralling vicious circle where the treatment of a physical illness is aggravated by the adverse reaction to medicines which mess up minds and wrecks lives.  
This heartbreaking story is full of all the facts and figures, describing the debilitating side effects from Dianette and Sulphasalazine.  Largactil is used to treat depression and nausea but can cause anxiety attacks. It is described as a chemical cosh.
The leaflet inside the box of pills is essential information about common, unusual and rare side effects.  Did you know that when prescribed Prozac you should not take St. John's Wort? - a lethal combination causing heart problems; avoid grapefruit juice if prescribed statins, antihistamines and some cancer drugs.  Millie Kieve has spent over 20 years trying to improve the understanding of how medicines can affect mental health, founding the charity, APRIL. (april.org.uk) 
Last month, Alana Cutland, a 19 year old British student was on a biological research trip in Madagascar. Tragically, her prescription for anti-malarial tablets had an adverse reaction, causing paranoia and hallucinations. On 25th July, while on a small aircraft, she forced the door open and fell 3,700ft to her death. 
As a Spoken Word event, "Cruise to Hell" may not be a conventional Fringe play, but Millie Kieve's vitally important, personal and poignant narrative is as equally emotional and dramatic.
Show times:
12 - 17 August, 2019 @ 17:45
Tickets: £8 (£6)