Image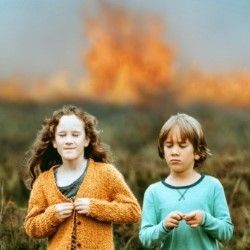 Company
Emma Blackman Productions and Emily Jenkins
Production
Emily Jenkins (author, director), Emma Blackman (producer), Dinah Mullen (sound design), Holly Ellis (lighting designer), Kaajel Patel (costume designer), Roshan Conn (stage manager & operator)
Performers
Kimberley Jarvis (Amy), Will Howard (Bobby)
You're not lonely. Lonely people have no friends and you've got me and I will be your friend forever.
Bobby and Amy are teenage misfits in a sleepy Cotswold town, despised, tormented and bullied by the other kids. Bobby counts buttercups and spiders. Numbers are safe. At home, his battered mother tries to hide her bruises. Amy takes refuge high up in the old folly, beyond the reach of her creepy new 'uncle'.
As a fragile friendship grows between the two outcasts, a calamity engulfs the countryside, devastating and then uniting the town, at least for a while. When so much changes so quickly, what is left that endures?
Bobby & Amy is a fast-paced character drama which is totally engaging from start to finish. Two highly accomplished performers bounce with great energy and skill between more than twenty characters, with quick changes of posture, mannerism and facial expression that drive the action forward. There is no set, no props, no changes of costume. The result is an emotionally powerful drama that manages to be poignant, funny and sad by turns. Bobby & Amy is one of this year's must-see shows, already playing to packed houses.
August 4-11, 13-26 at 12:45
Suitability 12+