Image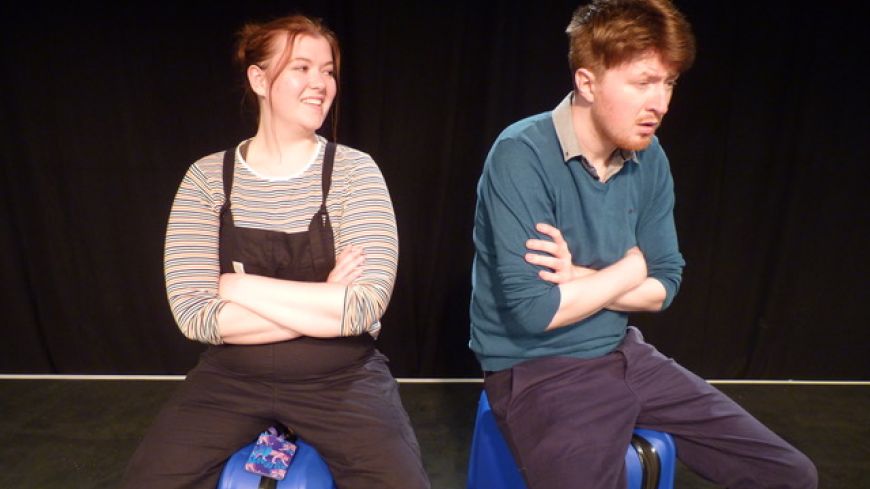 Company
Twelve Twelve Theatre and New Celts Productions
Production
Dougal Thomson (writer), Sarah Masson (director), Hannah Bradley (producer), James Ringer-Beck (sounds design), Hana Mackenzie (voiceover artist)
Performers
Hannah Bradley (Mel), Johnny Cameron (Tony)
In this Black Box space, the stage is completely bare apart from two blue suitcases. A sudden, strangulated, shout of "Fxxx"  is spoken by poor Tony, sprawled on the floor with a hell of a hangover and no idea where he is or what has happened.
A Good Samaritan in the guise of bubbly Mel comes to his aid, explaining that they are stranded at Budapest airport with no flights until Monday.  Wheeling herself in giddying circles astride her case, she teases Tony mercilessly when he asks "What day is it?".  " Saturday 5th July," she replies,  "July?!" ... "No, we are still in April"  …much to his relief.  Mel appears rather bemused by his amnesia and the headache, physically and figuratively, of his crazy situation, bombarding him with questions about himself and his job and life back home to find out what he had been doing the night before.
Mel's effusive friendliness – to the point of making up a love song about the two of them - is in total contrast to Tony's monosyllabic answers illustrating how desperate and dislocated he feels.  As chalk and cheese personalities they are the ideal double act, the comedienne and her stooge, deftly played by Johnny Cameron with dry wit.  With her fast-paced chatter and cheeky chuckle, Hannah Bradley has a fresh, fun, personable style  (well suited for solo stand up too).  
The only thing they can do in the airport is wait - so what better topic than Hawking's notion of imaginary time.  Airside at an airport terminal is a strange place beyond border control. Remember the movie, "The Terminal" where an Eastern European traveller (Tom Hanks) is stranded in diplomatic limbo at JFK airport – based on a true story.
Production values would be improved by a less economical (i.e. non-existent) stage set, extended use of the atmospheric voiceover recordings and developing this short sketch of a show into a 60/70 minute play.
Where has Tony come from and where he is going, that is the pondering, thought-provoking, philosophical question in this premiere of a sharply observed, quirky comic-drama.
Show times:
4 - 24 August, 2019 @ 15:30.  (Even dates only)
Tickets: £9.50 (£6.50). £30.00 (Family)
Age guidance: 16+