Image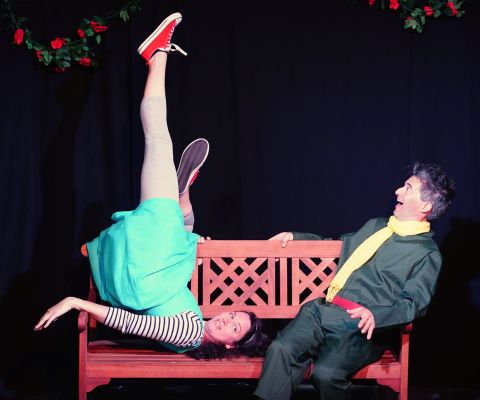 Company
Toby Mitchell and Co
Production
Toby Mitchell and Verity Clayton (devised)
Performers
Toby Mitchell (The Little Prince), Verity Clayton (Alice).
Two characters, separated by time and space meet for the first time in the world-wide premiere of Alice and the Little Prince. Both beloved personas, each belonging to extraordinary tales which capture the imagination of children and represent deep, meaningful reflections of society, friendship and happiness for adults. It's surprising that this premise isn't performed more often as it works so well.
We meet a plethora of beloved characters from both canons, each performed by Alice or The Little Prince themselves as they relate their tales of wonder to each other. Meeting in a shared setting of a rose garden, they bring their stories to life with the use of black and white drawings and a stuffed toy fox. There are some lovely moments of audience participation; drawing sheep together and spraying their faces with water. However some became quite monotonous, such as hiding from the Queen of Hearts voice over and over again. More moments could have been found to ask the children for help to push the narrative forward not just react to their surroundings.
The premise held such promise but was unfortunately let down in its execution. The show had nice moments but was not captivating enough for either the young or the old. It landed somewhere between 'Cbeebies' and a dry retelling of the originals. The message of 'you belong anywhere' seemed forced into the narrative to appeal to the current political climate and was not thoroughly explored. The use of other storytelling methods (such as games and songs) whilst creating more urgency for the characters to seek help from their audience, would greatly improve this production.
Dates and Times: 31-8, 10-18 August, 1.30pm
Suitability: 5+
Prices: £9 (Concession £6)
https://tickets.edfringe.com/whats-on/alice-and-the-little-prince