Image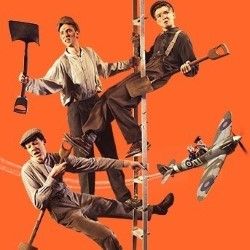 Production
Tim Norton (writer / director), Kathryn Norton-Smith (director), Ned Bennett (original music and lyrics), Kate Tidmarsh (stage manager and on-stage crew), Nick Ward, Ryan Ford & Peter Jolly (set design & construction)
Performers
Leo Milne (Chippy Wilberforce), Kirsty Campbell (Ethel Peas), Kishore Thiagarajan-Walker (Colonel Sharpish), Angela Ashton (Susie Gunning)
In the Spring of 1940, lads from all over the country are getting their call-up papers. In the War Office, calculations are already being made about how many graves will need to be dug.
A Grave Situation is the story of the five Wilberforce brothers, a family of gravediggers, who are shipped off to France armed only with spades. Chippy Wilberforce takes with him a book given to him by new love Ethel, who works in the local library. It is the story of Orpheus & Eurydice in The Underworld.
We follow the adventures of the boys in France, the distractions which mean they miss the boats at Dunkirk, and their efforts to dig their way out of trouble. Meanwhile, work goes on in the War Office and the RAF prepare for the Battle of Britain. At home, a lonely librarian waits for news.
The story may be more than a bit daft, and there are a few predictable stereotypes, but the energy and enthusiasm of a huge cast deliver a very entertaining show, and Jolly Good Fun is had by all. There is the trademark stagecraft of Young Pleasance; the rapid scene changes between Huddersfield, The War Office, The RAF and France (not to mention Heaven and Hell!) are executed with flawless precision. There are some well-written comic songs and some charming individual performances. And in the end, there are no graves to be dug, the library book is returned, and the young lovers are re-united.
August 13-17 at 15:15