Image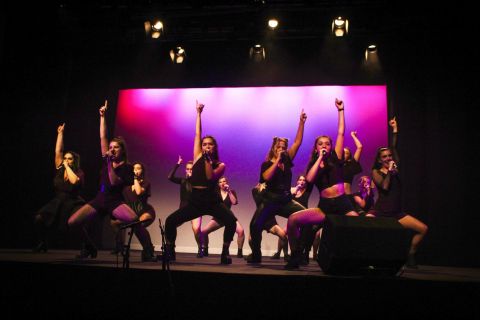 Company
AcadePitch Productions
Production
AcadePitch Productions
Performers
Academy and Pitch Fight
Taking Romeo and Juliet as an inspiration for this production, two a cappella groups battle it out for supremacy in this entertaining and light-hearted show. This is very loosely connected to Romeo and Juliet - with its tongue firmly in cheek, the story unfolds of two groups with a long-term grudge and a ban on romance between the two sides.
The prologue is clever, setting the (musical) scene for the story that unfolds. The two groups on stage work very well in what becomes a packed space: the handling of the three-sided audience is particularly well done as the routines aimed in different directions never seem forced or uneven.
The choreography is inventive and there are many strong singers on stage as the two groups join forces successfully in this show. While not all on stage seem as relaxed as others, there is a great deal of drive and energy being given to the performance that pays off. The show seems a little short and could be expanded further by adding in more of the Romeo and Juliet storyline, which would tie-up the ending more effectively. However, this is a fun-filled show and an enjoyable, high-spirited watch for both young and old.
Times: 22-24 Aug @ 1:50pm