Image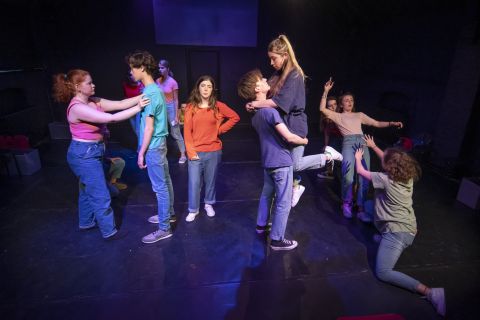 Production
Jeremy Piper (Direction); Sophie Marshall (Lighting); Eve Freeman (Sound); Natasha Long (Stage Management); Georgie West (Composition)
Performers
Bea Anderson, Tess Bailie, Holly Bancroft, Sam Beney, Honor Calvert, Rosa Gatley, Lucy Hindmarsh, Hannah Hopkins, Rom Kemp, Raffi Krishnadasen Torrens, Molly Millard, Raph Salmi, Will Tennant, Georgie West
This young theatre company takes an interesting look at the number of decisions we human beings make each day. Using verbatim text, they create a narrative that looks at both the serious – and far less serious – decisions that can change what will happen next.
The direction is well paced and, despite the large number of cast members on stage, it never feels crowded or too busy. Vignettes about lived experiences of difficult decisions give specific focus to the piece, which helps in considering the wider impact of how a decision can have wide reaching consequences, both good and bad. The decisions which seem less important nonetheless still have impact, and the cast acknowledge that what is important to them is often a reflection of their youth, although not always.
What works really well is seeing the cast listen to each other, listening to the decisions that have or have not been made and taking note of why, of what then happened. An intriguing concept, this is a lovely, gentle piece which leaves the audience to ponder on their own decisions and what that has meant to them.
Times: 21-25 August, 2:15pm