Image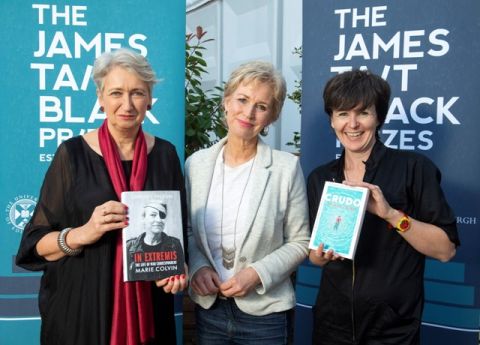 Production
The University of Edinburgh
Performers
Lindsey Hilsum, Edward Wilson-Lee, Susannah Walker, Will Eaves, Jessie Greengrass, Olivia Laing, Nafissa Thompson-Spires (shortlisted writers); Dr. Simon Cooke & Dr. Alex Lawrie (Judges); Sally Magnusson (Presenter)
2019 marks the centenary of the inaugural James Tait Black Prizes founded by Janet Tait Black née Coats, in memory of her husband, James and in recognition of his love of great books.  Organised annually by the University of Edinburgh, these are Britain's longest running literary prizes for biography and fiction, selected by the senior staff of the English Literature Department assisted by a group of their Postgraduate students.
As in previous years, Sally Magnusson chairs this prestigious event with marvellous enthusiasm and incisive literary knowledge  - you can tell she has enjoyed reading all eight books with forensic detail!  
First a short chat with two of the English postgraduate students involved in the initial selection process.  Most appropriately, to celebrate the 100th birthday, a new creative writing prize for students, the Janet Coats Black Prize. This is presented by Dr. Lucinda Byatt (a cousin of Janet Coats) to Julie Galante for the best short story.
And then to the heart of the matter and a discussion on the shortlist for the Biography Prize.
The four books are: Natives: Race and Class in the Ruins of Empire by Akala, In Extremis: The Life of War Correspondent Marie Colvin by Lindsey Hilsum, The Life of Stuff by Susannah Walker, and The Catalogue of Shipwrecked Books by Edward Wilson-Lee.
While Akala was unable to attend, the three other biographers take part in a discussion about their subjects and detailed research involved.  Film extracts of very well read extracts from each book, in both categories, is shown on screen to give a flavour of the language and narrative style.
Lindsey Hilsum admits how she was so fortunate to inherit the journals of the late Marie Colvin. As a friend and fellow foreign correspondent, she was the best person to delve into her wartime experiences.
Wilson-Lee describes his story of Hernando, the illegitimate son of Christopher Columbus, who wrote a biography of his father and created a universal library.  As a memoir of her late mother, Susannah Walker, sifted through all her possessions left behind to try to understand their strained relationship.  
Dr Simon Cooke, judge for the Biography Prize then gave a précis of the shortlisted books: "Natives" is an extraordinary polemic about race and class based on Akala's own mixed race background, rigorous in its argument.  "The Life of Marie Colvin" is not a hagiography of a legendary woman but shows a graphic picture of political world incidents. 
Scrupulously researched,  the narrative of " The Catalogue of Shipwrecked Books" weaves with elegant prose in which Hernando emerges as a real character. As a memoir of her mother in "The Life of Stuff", Susannah has the task of letting go of the past amidst the hoarding and mess left behind.
The winner of the £10,000 prize for biography is then revealed - Lindsey Hilsum for In Extremis The Life of War Correspondent Marie Colvin, published by Chatto and Windus.  In her acceptance speech she says she is overwhelmed to join the list of previous winners (e.g. Doris Lessing and Lytton Strachey),  and feels this is her Oscar moment. 
"This is a uniquely informed, passionate and balanced testament to the legendary war reporter Marie Colvin in all her human complexity."  Biography judge Dr Simon Cooke
Moving on from fact to fiction, the 2019 short list is: Murmur by Will Eaves, Sight by Jessie Greengrass, Crudo by Olivia Laing and Heads of the Colored People by Nafissa Thompson-Spires.
With echoes of Oscar Wilde's persecution, in "Murmur", Will Eaves reflects on the arrest and horrific torture of Alan Turing by the country he did so much to protect.  Jessica's debut novel "Sight"  is about motherhood and family life past and present to learn more about oneself and how others see us.  
In a series of darkly humorous short stories "Heads of Colored People," Nafissa examines black identity in British middle class society today.  Olivia Laing explains that she wrote her experimental novel, "Crudo" in just seven weeks in 2017, told through the eyes of Kathy against a backdrop of Brexit and Trump to create a social, personal and political time-capsule of  "this moment"
Dr. Alex Lawrie gives a swift summary of the qualities of each novel.  Inspired by Turing, "Murmur" is a work of fiction  - "an imaginative feat, brave, risky written with iambic rhythm".   The personal viewpoint of pregnancy and birth in "Sight" is written through flashbacks to explore a mother's death and sense of grief.
"Crudo" relates a woman's personal experiences and news events across one summer, a flowing narrative in stream of consciousness-style.  And finally, the short stories by Nafissa Thompson-Spires, are full of sympathetic characters - "sharp, cool, ironic and witty."
The £10,000 James Tait Black Prize for fiction is presented to Olivia Laing for her debut novel "Crudo"  (published by Picador).  She is certainly surprised "Blimey!" she says, "Bloody Hell!"  before thanking the University of Edinburgh for the selection process and generous award, paying tribute to her fellow shortlisted writers.
"This is fiction at its finest: a bold and reactive political novel that captures a raw slice of contemporary history with pace, charm and wit." Dr. Alex Lawrie, Fiction Judge
Looking forward to more colourful, cultural and erudite conversations on the fiction and biography shortlists selected for the James Tait Black Prizes at the EIBF 2020.
Show time:
The James Tait Black Prizes took place on Saturday 17 August, 2019 at the Edinburgh International Book Festival.