Image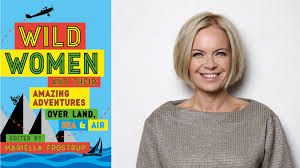 Performers
Mariella Frostrup, Lois Pryce, (writers), Jackie McGlone (presenter)
Journalist, critic and broadcaster, Mariella Frostrup was born in Norway, brought up in Ireland and now lives in the UK.  With a passion for travel she writes about her journeys for the Telegraph and magazines.  She is the editor of "Wild Women and their Amazing Adventures over land, sea and air," a 500 page brick of a book – perhaps not easy to pack for your next beach read.!  
These are the stories of intrepid solo travellers, past and present, many airbrushed out of history, despite climbing Mount Everest, exploring Antarctica or flying solo across the globe.  One of these wild women, Lois Pryce – who has motorcycled her way across Africa -  joins in this fascinating discussion which is presented with infectious enthusiasm by Jackie McGlone.  
The inspiration for the book comes from her life long wanderlust reading stories about Shackleton, Don McCullin, James Fenton et al. It then occurred to her, where were the female explorers?   While there are a few well known names here, Gertrude Bell, Vita Sackville-West, Isabella Bird, there are many women whose exploits have been forgotten.
We hear about Adela Breton (1849-1923) an archeological artist who set off to Mexico, riding around with her guide, Pablo painting the Aztec temples.  Have you ever heard of Junka Tabei?  Me neither.  This petite Japanese mountaineer, (4' 11") led an all women team to the summit of Everest in 1975 but she was so self-effacing, kept quiet about this trip.
Lois Pryce has driven by motorcycle from Alaska to Tierra del Fuego and across Iran. In this book she covers her 10,000 mile trek from London to Cape Town. Advised to take the train through the Congo jungle, she describes the "scariest day of my life" - a dangerous encounter with 40 boozed and drugged up soldiers, as related in her narrative, Red Tape and White Knuckles.
In summarising the selection of traveller's tales, Mariella recognises these women share the same sense of courage, independence and bloody mindedness to experience the freedom and "be elsewhere."  Victorian women in particular wanted to escape the expected social role as wives and mothers.
So where would she like to travel to next?  "I like to challenge myself, feel energised, so Antarctica, Patagonia, and also a road trip across the USA."
Show time:
Mariella Frostrup and Lois Pryce appeared in this event on Wednesday 21 August, 2019
Wild Women is an Anima book published by Head of Zeus Ltd.