Image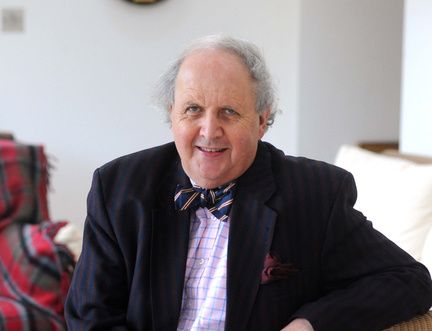 Performers
Alexander McCall Smith (writer), Gavin Esler (presenter)
The internationally best selling novelist, Alexander McCall Smith hardly needs to be introduced, begins Gavin Esler in conversation with a writer who has out-paced Dickens with over 100 books. His popular series range from The No 1 Ladies Detective Agency and Isobel Dalhousie to 44 Scotland Street and Corduroy Mansions, as well as many stand alone novels and non fiction.
The character of Precious Ramotswe came about when staying in Botswana  where at a party, he saw a lady in a red dress chasing a chicken in the yard. This fired his imagination for a story about a remarkable strong woman starting a Detective Agency – it could have been a dry cleaners, but might not have been so popular, he adds, with a chuckle.
What is it which made him fall in love with Botswana?  It is so peaceful, and in a troubled world they are fortunate with not so much land hunger since devolution. And there's very little crime, Mma Ramotswe is a lady who helps people, with a very low body count.
There's an amusing discussion about the pronunciation of Isabel Dalhousie – is it Hoosie or House-y?.  His readers are intrigued.  This leads to his personal vendetta about the correct pronunciation of the East Lothian town of Gullane, as debated in a 44 Scotland Street book. 
Apparently the residents are divided between uppies and downies, some saying Gill-ane and the others, Gull-ane.  The only person who can decide which is historically correct is the Lord Lyon King of Arms.
It was 15 years ago when in San Francisco he met Armistead Maupin whose stories were serialised in a newspaper, (a popular device here in the 19th century). His own proposal for an episodic novel to The Scotsman was quickly accepted but he was astounded that the editor did not want a chapter each week, but daily.!   A favourite character, Little Bertie, with his pushy mother, stayed at the age of six for over eight years, and has only just turned seven.
A new book coming soon is "Pianos and Flowers,"  a charming collection of vintage, black and white, anonymous photographs of men, women and children for whom he has invented names, characters and life stories. 
Prolific as always, Alexander McCall Smith publishes around 5 – 6 books each year with demanding deadlines.  He says he likes to write in the early morning, from 3 – 6am,  so that he has finished writing, in a state of emotional exhaustion, in time for breakfast.!
Show time:
 Alexander McCall Smith appeared at the EIBF on Wendesday 21 August, 2019 at the EIBF
 His books are published by Polygon in Scotland, by Little,Brown in London and in the US as well as in 47 languages.