Image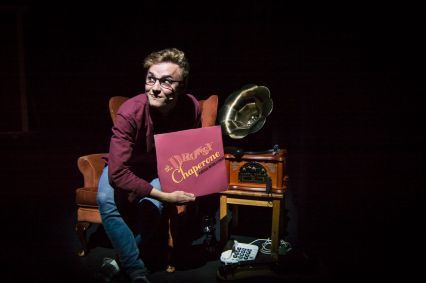 Company
Edinburgh University Savoy Opera Group (EUSOG)
Production
Lisa Lambert and Greg Morrison (music and lyrics), Bob Martin and Don McKellar (book), Chloe Simpson (director), Ross Hadden (musical director), Samantha Redfern (producer), Anna Phillips (choreographer), Jenna Maclean (assistant producer), Jaime Grant (production manager), Rebecca Waites (costume designer).
Performers
Gordon Stackhouse (Man in Chair), Niamh Higgins (Drowsy Chaperone), Julia Weingaertner (Janet van de Graaff), Douglas Stephenson (Robert Martin), Rebecca Waites (George), Sam Coade (Adolpho), Kirsten Millar (Mrs Tottendale), Ewan Bruce (Underling), Edward Campbell (Feldzieg), Holly Marsden (Kitty), Caoilainn Mcgarry (Trix the Aviatrix), Kathryn Salmond (Gangster #1), Matilda Botsford (Gangster #2), Sally Macalister and Erica Belton (Ensemble). Jonnie Grant, Hugh Richardson, Jack Wood, Caitlan Morgan, Brendan Sargent, Mark Stanford, Emma Clark, Ryan Hanlon, Lottie Needham and Jack Burrows (Band).
"It used to be, sitting there in the dark, you knew that when the show began you would be taken to another world, a world full of colour and music and glamour."
Our narrator, sitting in his apartment at the side of the stage shares with us his love of the escapism of the theatre, and in particular, The Drowsy Chaperone a musical from the decadent 1920's when champagne flowed while the caviar chilled and all the world was a party.
He puts on the record of the Broadway show and is transported back to that gayer time. "I'll lead you through this record as best I can. Don't worry; it won't be hard to follow".
The cast appear behind him in and launch into the show-within-a show, a musical parody that pokes fun at all the tropes and stereotypes of the genre. Drawn by his need to share his love and knowledge of the musical the Man in the Chair summarises - "We have a bride who's giving up the stage for love, her debonair bridegroom, a harried producer, jovial gangsters posing as pastry chefs, a flaky chorine, a Latin lothario, and an aviatrix; what we now call a lesbian. And, of course, my favourite character, the Drowsy Chaperone. What more do you need for an evening's entertainment?"
Along the way there is mistaken identity, unlikely plot twists, dream sequences and rousing musical numbers. The narrator is pulled between his desire to lose himself in fantasy and to share his passion for it, stopping and starting the action to provide trivia. It's a wild comical ride – "hang on" he intreats.
It's great to see this multi-award-winning musical within a comedy brought to the Fringe. The musical numbers are delivered with gusto, the big solos all hit their mark and the choreography and movement are good enough to keep it tapping along. The limited set leaves the Man slightly static in his chair, but the narration is nicely timed; not only a little blue but a bit fragile, insecure, conflicted and grumpy.
There are missed opportunities though. An inexplicable lack of roller-skates in "Accident Waiting to Happen" and Janet is denied the opportunity to "Show Off"" with the absence of a number of visual gags (from quick changes to escapology, ventriloquism and more). The removal of the Oriental Palace Scene - a jaw dropping "degrading piece of Chinoiserie" is hopefully due to time constraints and not "cold feets" over political correctness, as the intention is satirical.
The production (as with the show within) is fun and well worth seeing. As the Man in the Chair says "Look I know it's not a perfect show … It does what a musical is supposed to do: it takes you to another world."
Show Times: 3rd to 11th August 2018 at 9.35pm
Tickets: £12 (£10)
Suitability: 14+