Image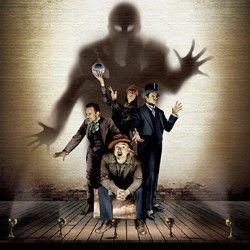 Production
Olivia Jacobs (director), Toby Mitchell (co-director), Barney George (designer), Peter Harrison (lighting design), Jon Fiber & Andy Shaw (music & lyrics), Morag Cross (movement director), Scott Penrose (magic supervisor), Martin Rodges (costume designer), Stella Blackman (design assistant), Dick George (set builder)
Performers
Matt Jopling, Tom Jude, Steve McCourt, Lauren Silver
The Canterville Ghost is a thoroughly charming, slickly delivered slice of light entertainment that will appeal to children and grown-ups alike.
It was Oscar Wilde's first published story and has seen many adaptations over the following years, most notable the 1944 film with Charles Laughton as the lead character.
In this ingenious treatment by Tall Stories, the action of the story is divided into a series of episodes enacted by music hall performers and interspersed with their own speciality acts. A suave compere directs the proceedings with an assured swagger.
All the comic possibilities of this gothic melodrama are played out with great gusto as the resident ghost of Canterville Hall tries unsuccessfully to scare the new owners with a repertoire of gruesome disguises, each one more grisly than the last. But all he wants, it turns out, is to have his true story told.
The increasingly desperate ghost is played by The Illusionist who also entertains us with smartly delivered tricks. The Psychic (who doubles as the mischievous daughter of the new owner) gives a hilariously over-the-top performance as a medium possessed by a wanton spirit. But it is The Ventriloquist (who also plays the lanky son) who really steals the show, with an extraordinary and truly impressive display of the art. In time-honoured style, a cheeky dummy says all the rude and naughty things that his deadpan master would like to say but dares not.
The set alternates between a theatre stage and the many rooms of the haunted mansion. Doors on wheels are constantly rolled into different positions. Performers appear from behind them, then disappear again, only to pop up somewhere else. Spooky!
After all this frivolity and slapstick, there is a surprisingly poignant epilogue which recounts another story from the days of music hall, told in part through a haunting song.
August 1, 3, 5, 7, 9, 11, 13, 17, 19, 21, 23, 25 14:45