Image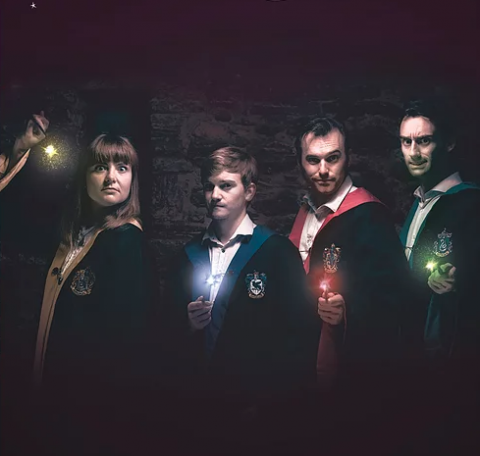 Company
The Spontaneous Players
Performers
Will Naameh, Sam Irving, Paul Connolly, Eric Giestfield, Colin Bramwell (piano)
A brand new Harry Potter story created right in front of you?! Spontaneous Potter is an entirely improvised Harry Potter fanfiction, using your title suggestions pulled out of the sorting hat! This particular performance was Harry Potter and the Not Yet Existing Play. Most meta of titles, and the four Spontaneous players, Will Naameh, Sam Irving, Eric Geistfield, and Paul Connolly, take it and produce something magical, along with impressive improvised piano accompaniment by Colin Bramwell.
This Harry Potter tale, never to be seen again, sees Dumbledore debut a new school play in order to boost students' morale after all the bloodshed. He's cast Minerva McGonagall as the lead opposite Draco, both played by Sam Irving, and it's a loose adaptation of the musical Cats. There is a sinister plot being cooked by Crabbe, Goyle, and Malfoy concerning Hermione, and Dumbledore's animagus is a soup. The Spontaneous players switch in and out of roles, their impressions of the beloved characters absolutely hilarious.
This play-within-a-play has constant gags, the players inventing out of any loophole in which they find themselves, to the audience's howls of laughter. For this performance, Sam is particularly apt at ending a scene with a one-liner or finding unbelievable puns in their on-the-spot creations. There's a bit of musical improv and a doowop number with a trio of divination professors called "Trilawney"; there are pensieve flashbacks; Mrs. Norris is American!
To audience amazement, even with plenty of piss-taking hilarity, Spontaneous Potter somehow becomes an actual narrative, however absurd. It's dumbfounding how five people can think as one and create such an ingenious, laugh-out-loud show. If you've seen this show once, you've seen it once! Back this year following their wildly successful Spontaneous Sherlock, the Spontaneous Players have done it again! New every night, this is improv by this year's recipient of "Best Improv, Sketch or Variety" at the Scottish Comedy Awards. Perfect for Potterheads and muggles alike.
Aug 16-26
20:45
14+