Image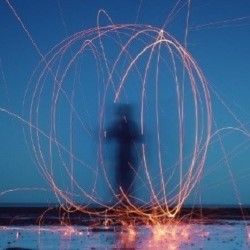 Company
Michelle Barnette and Flipping Bird with Hightide
Production
Jessica Butcher (Writer), Anoushka Lucas (Original Music), Jessica Edwards (Director)
Performers
Jessica Butcher, Anoushka Lucas
Sparks is a beautifully raw two hander that plays witness to the inner monologue of a women who has found herself in love. Following her successes last year, Brutal Cessation and Dust, Michelle Barnette returns to Edinburgh Festival Fringe with this new offering into the human condition.
Although there are two performers, they are the same - one speaks with music and one with words. Through this balance of monologues and musical numbers we flit between the luminous light of love and desperately dark moments of grief as the sparks begin to fly.
Writer and actor Jessica Butcher gives an exceptionally fervent performance which carries the audience into the depths of each emotion she experiences, regardless of how complex. Yet it is within her writing that the real energy can be traced to.
Her stunning use of imagery and droll moments of irrefutable normality ground this piece, before the elegance of Anoushka Lucas' score elevates it. Her original composition holds the perfect balance between a musical theatre earworm and enchanting acoustic pop.
Sparks exposes each little win, niggling doubt and low moment with a beautiful reverence for the mechanisms our brain employs to combat grief.
Running 4 - 26 Aug (not 8, 13, 20)
https://tickets.edfringe.com/whats-on#q=%22Sparks%22