Image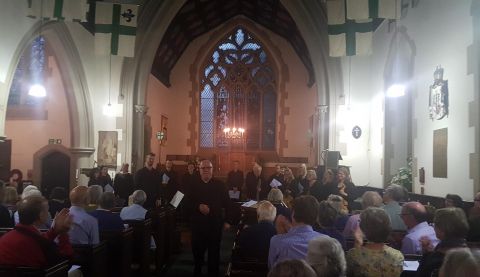 Company
Coro Vincenzo and The Squair Mile Consort of Viols
Production
The Resurrection History (Heinrich Schütz); Two Fantasias for Four Viols (John Jenkins); Ave Verum Corpus, In Nomine a 4, Agnus Dei from 'Mass for Five Voices' (William Byrd)
Performers
Les Shankland (director), James Hutchinson (evangelist), Coro Vicenzo (choir), The Squair Mile Consort of Viols
Tonight's outstanding performance of Schutz's 'Resurrection History' fell within St Vincent's 'Festival of the Sacred Arts', and was introduced by its director, The Revd Professor Gordon Graham.
As a prelude to the main item, we heard two viol fantasias composed by John Jenkins, both of which were balanced and expressive, exemplifying Jenkins' great gift at chamber music. There then followed three items by Byrd, of which the 'Agnus Dei' was exceptionally well performed, the beautiful clarity of the different voices eloquently communicating the text's powerful plea for peace and for mercy.
Schutz's 'Resurrection' then followed the Interval, and was in every sense magnificent. Over the years, this has largely been a work that has remained wrapped in obscurity, possibly due to demand being greater for Easter performances to focus on the Crucifixion.
Under the direction of Les Shankland, the care and planning that had gone into this particular interpretation had clearly been thoroughgoing. The narration, articulated in the style of monody, was sung with freedom and feeling; the inclusion of ornamentation, and the balance with the gentle string accompaniment, also being struck just right. The majority of the main characters were represented in duet fashion, supported only by continuo organ. Both organ and viols played their parts in ensuring that the momentum of the performance was consistently maintained.
It was especially evident how much the performers had taken great effort to understand and empathise with what it was they were singing. Fluctuating between the narrative's extremes of urgency and restraint, it was easy to become immersed within the story's unfolding drama, and to be carried through the emotions experienced by its characters.
The two voices representing Jesus in the tenor range, helped to mark out clearly the central character, both with regards to pitch as to pace. They slowed the tempo down, giving these lines intended greater profundity. There was one shaky moment towards the end, but this was quickly and well recovered. In contrast to the characterization of Christ, there was an element of humour in the depiction of the High Priests, sung by basses, in their desperate attempts to extricate themselves from the mess they had made; the sopranos who took on the role of Mary Magdalene were brilliant in conveying the sorrow of the sepulchre; Cleophas and his companion actually moved around the church, representing the wearied, but excited travellers on the Road to Emmaus.
Thus the performance was marked by both inventiveness and initiative, and the climactic victorious hymn of praise at the end provided an apt and triumphal conclusion to all that had gone before. The performance finished at 8.35pm.
Schütz: Resurrection History, Thursday 16th August, 7.30pm, St Vincent's Chapel