Image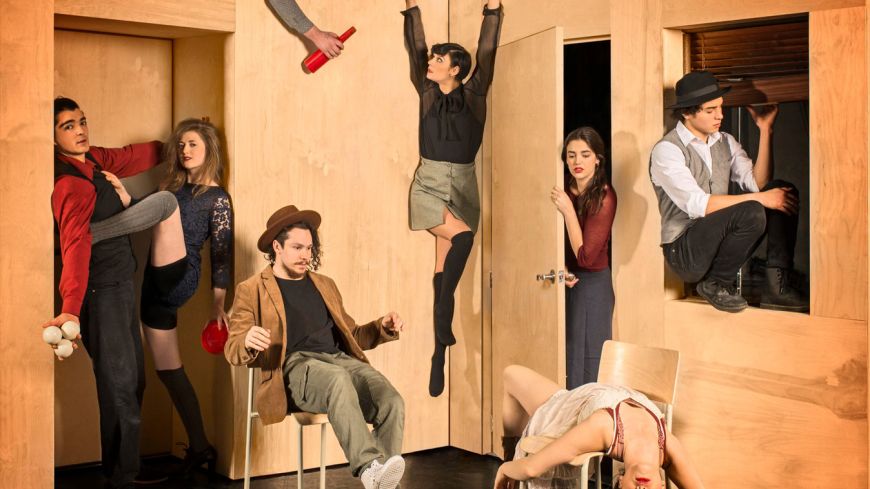 Production
Gypsy Snider (Director), Isabelle Chassé (Associate Director), Phillip Chbeeb & Hokuto Konishi (Movement Design Collaborators), Kyra Jean Green (Choreographic Assistant), Shana Carroll (Chinese Pole Choreography), Colin Gagné & Sébastien Soldevila (Musical Direction)
Performers
Maria Del Mar Reyes, Vincent Jutras, Jérémi Levesque, Natasha Patterson, Hugo Ragetly, Zoé Sabattie, Julien Silliau, Emi Vauthey
An utterly magnificent spectacle to behold, The 7 Fingers' Réversible is a stunning dance, circus and theatre performance that will leave you speechless.
Overflowing with exceptional skill and talent, this would be quite the feat purely as a circus performance, yet Director Gypsy Snider has gone a step further by incorporating such a beautiful contemporary theatre performance into the mix. This show truly is a wonder to behold.
Opening onto a street of understated doors and windows, lives pass by as the eight-strong troupe dance climb and flip through, under and over walls and doors in a blizzard of movement. This does not happen without consideration for each person's story - no single story being brushed over or overshadowed by showing off skills. Despite its intricate choreography this section, as with many other, is notably narrative led.
At multiple points, the performers share words of gratitude to their parents, grandparents and elders, dedicating this piece to the people who have walked before them. Although not incorporated fully into the narrative of the piece, there is a distinct warmth and personal feelings throughout this piece that is rarely found in the showmanship that comes with large scale circus performance.
Much like any other trip to the circus, this troupe have jugglers, contortionists, hula hoop hotshots, German wheel masters and stomach knotting tricks on Chinese poles and the Korean plank. All of these elements surpass every expectation as each of the eight highly skilled performers showcase their outstanding talents. However, it is the drama and emotion incorporated into each performance that grips you until you are given time to applaud loudly.
This production is worth attending, purely for the breathtaking end that finds the dancers gliding across billowing waves in blissful unity. To ensure you absorb the full picture of this show, do not rush to the front - you're view will be much better from the back.
Such elegance and beauty is rarely found in the wacky world of circus art, but it is certainly found here.
Running until 26 August (not 20)