Image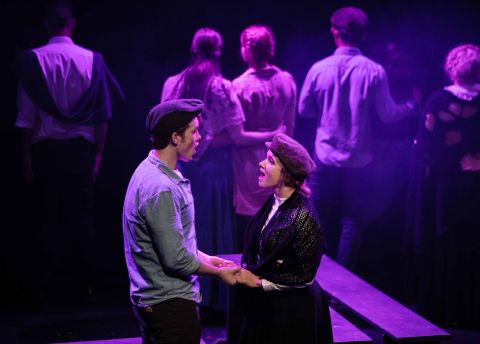 Company
Royal Conservatoire of Scotland * Northwestern University, Chicago
Production
Jonathan Bauefeld (music), Casey Kendall (Book, Lyrics), Ryan Cunninham & David H Bell (directors), Matt Peramiquel (musical director), Neil Smith (lighting)
Performers
Pablo Laucerica (Simon), Bethany Palmer (Chana), Hale Stewart (Finnegan), Jennifer (Catriona), Fiona Sherlock (Lendina), Natalie Welch (Zjarrta), Serena Weir (Nora), Andromache Voutsa (Mariana), Will D'Sousa (Dimitri), Frances Arroya-Lopez (The Reader), Arjana Sanfilippo (Alice), Bryan King (man in Prison), Ensemble: Derek Dishington, Helene Holman. Band: Mateu Peramiquel, Sarah Jones, Brodie Jarvie/Calum Cronin
The topicality of this musical drama is powerfully poignant. Today, we see the desperate Venezuelan refugees walk across the Simón Bolívar Bridge, the link between their past and a future in Columbia. A century ago, millions of European émigrés sailed to America to find a new life in the New World.
Around a tower of battered leather suitcases, a bustling crowd of passengers evoke a fever of excited but anxious anticipation of arrival in NYC. Their mixed emotions are well reflected in the opening number, "A Building on an Island in a Bay," Ellis Island, their bridge between the home left behind and the edge of something new.
Suddenly there's a shout, "There she is, the Statue of Liberty,!" the iconic symbol of the land of freedom. But first they need to pass through Immigration. Clutching their meagre possessions, they shuffle along the queue as the lyrics phrase the barking of questions " What's your name, where are you from, where are you going?"
The Reader – the story's narrator – browses through a huge, heavy volume, The Book of Names, the list of all previous émigrés who have passed through Ellis Island. Robert Wilson aged 29 was actually Sophia who dressed as a man to be allowed entry. And so one by one we meet the arrivals from Greece, Albania, Ireland, Scotland, Spain et al … a mother and two daughters, an elderly mother with her son, a young couple expecting their first child, an Irish lad and a Scottish lass.
Through snapshot scenes they describe their background, hopes, fears, future plans as they line up for checks of papers, passports and health. While there are some star performances showing character insight and dramatic conviction, some accents are a little wobbly – even a slight American twang creeping into the dialogue. A few rather modern costumes need attention for period authenticity.
Simply staged, just half a dozen benches are swiftly moved around to show dormitories and dining room where they join in a gleeful Irish Jig and Greek dance; this international group of strangers now friends in a foreign land.
A band of just three musicians perform a melodic score, driving the action rhythmically along. The bittersweet lyrics are beautifully poetic, the tone and nuance immediately reminiscent of musicals such as Les Miserables and Miss Saigon creating the same enriching, emotional backbone through lively ensemble ballads and quiet duets.
This is an exciting joint production by Musical Theatre students from the Royal Conservatoire of Scotland and Northwestern University, Chicago. This smashing musical could certainly be developed for the professional stage. Remember the names, Jonathan Bauerfeld and Casey Kendall, whose youthful talents as composer and lyricist are surely the Boublil and Schönberg of their generation.
Show Times:
4 – 26 August. Even days. @ 1500.
Ticket Prices: £7- £11
Age guidance: 14+