Image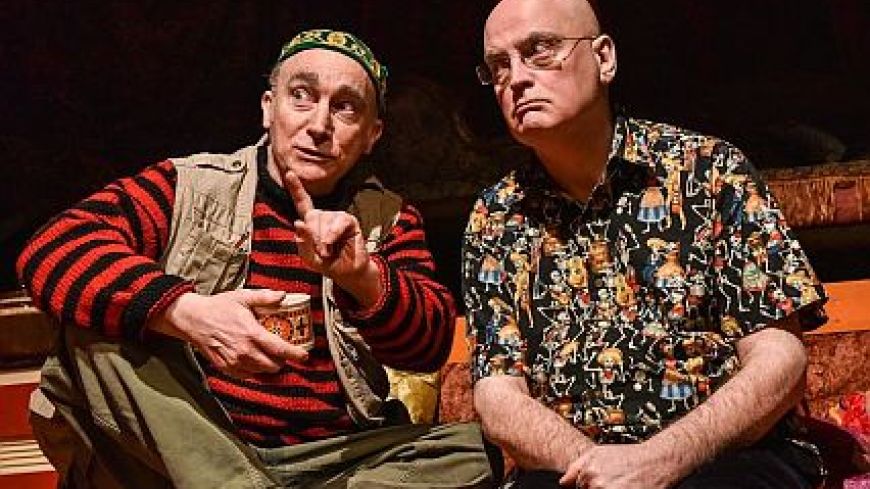 Company
Pleasance Theatre and The Showstoppers present a Hampstead Theatre Production
Production
Terry Johnson (writer), Lisa Spirling (director), Janet Bird (designer), Mike Gunning (lighting designer), John Leonard (sound designer).
Performers
Terry Johnson (The Writer), Jeremy Stockwell (Ken).
On the tenth anniversary of his death, Ken Campbell, legendary theatre maverick is back at the Fringe.
We start by stepping back into the 1970's, in a theatre space redolent of that era, all swirly wall paper, kilim rugs, floor cushions and wicker lampshades. It's a time when 23-year-old aspiring writer Terry Johnson was inhabiting a sliver of a shared flat whilst on a quest to write a play about a dead zoo.
It was a project side-tracked by a phone call from Campbell, looking for a man called Geoff, but offering Johnson a part in a play if he wasn't doing anything on Saturday.
And Johnson's narration is interrupted now as the reincarnated Campbell, all energy, expressive eyebrows and with the face of a "perpetually bewildered grocer", marches through the audience recreating that call on a banana.
Johnson's tale is subverted as Campbell injects anecdotes, characters and direction into a freewheeling journey through their shared past. The "caper" takes us to the Edinburgh Fringe with a group of like minded "seekers" and a seemingly mad cap idea to launch a 24-hour promenade play, based on the hippy memoirs of the poet Neil Oram, in just 10 days. The fact that "The Warp" wasn't written and the ruinous Regal Cinema venue had no electricity or toilets is a minor inconvenience.
Campbell's unique directing style comes to the fore along with his experiments of combining sex, alcohol and body painting with art and stagecraft. Johnson has prefaced by saying that there might be a few white lies, but the less believable parts are true; including a puckish prank to rename the Royal Shakespeare Company.
The piece is rounded out with a more lyrical eulogy to this "Champion of Seekers"; a figure who Johnson misses but clearly also still hears.
It's a work that is personal, endearing, amusing and revealing, delivered by those who felt the flick of Ken's hand on the tiller.
It's as near as you will get to those heady days - and significantly shorter.
Show Times: 1st to 27th August (not 13th or 20th) 2018 at 3:20 pm.
Tickets: £11 (£10) to £14.50 (£13.50).
Suitability:12+