Image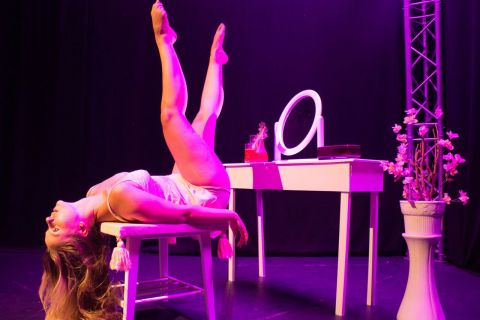 Company
The Bathtub Heroine
Production
Alice Sylvester (writer), Kate Poole and Beth Marnion (Technical managers)
Performers
Alice Sylvester (Daisy)
The iconic painting, Beverly Hills Housewife (1967) by David Hockney is a powerful portrait of a Betty Freeman, a tanned, sculptural figure in a bright pink dress, standing on the patio of her luxury mansion. This was the initial spark of imagination for Alice Sylvester as the period setting and subject for a play about the domestic role of women as wives and mothers in the 1960s and '70s.
Enter the man's world of empowerment at work and society, especially Hollywood. After decades of alleged rape, sexual harassment and exploitation of actresses, movie mogul Harvey Weinstein has finally been brought to justice. When women didn't play ball - they never worked in Tinseltown again, a threat which ensured silence around the long legacy of casting couch culture.
The year is 1979 and we are invited into Daisy's bedroom at her Beverly Hills home overlooking the sprawling metropolis of City of Angels shimmering in the summer haze. Wearing a slinky, silk slip, her long wavy blonde hair flowing over her shoulders, the young woman sits pensively at her dressing table. She describes lying awake at night dreaming of crystal blue swimming pools, she bends backwards with gymnastic flair, her long blond hair flowing to the floor, as if floating, sinking under the water, her soft, curling waves rippling like jelly fish.
Her melancholy mood is echoed by Hollies' song Sometimes all I need is the air that I breathe, and to love you ... Although she is married to Michael, she is just a housewife and her sense of utter loneliness and entrapment is palpable. It would be a perfect night for a party, if only her friends could come. Daisy reminiscences the cinematic, technicolour scenes from her childhood: 1969, aged 10 and her mother as a perfectly manicured, coiffed woman of beauty as if stepping out of the pages of The Stepford Wives, the suburban, submissive robots of sci-fi fantasy.
This is the hippy era of peace and love, as she embraces the blossoming of femininity, and with her pretty pink cheeks, says her father, she will never have to worry. But the adult world of sexuality is full of secrets and lies, she realises, Roman Polanski's fling with a 14 year girl was "a mistake" not rape. Daisy's own first experience of abuse is etched graphically like a scar in her mind, the touch of his hand on knee and thigh, as she recalls the sour, salty taste on her tongue.
The lyrical language with a languid pace is eloquent and enriching: "My dreams are full of water, my brain must leak." She captures a recurring snapshot of her sister gliding like a dolphin while with, humiliating defeat, Daisy admits that has not learnt how to swim. She is not waving but drowning. Like Mrs Dalloway, her mind flows in a stream of consciousness with thoughts, memories, fears and epiphanies, trying to make sense of her emotions in a desperate, elusive search for love - "I am a woman, all I ever wanted to be".
As "The Bathtub Heroine", Alice Sylvester is a fiercely intelligent writer and compelling actress with a passionate story to tell. In her debut play last year, she gave a truly hypnotic, passionate 5 star performance as Sylvia Plath. Once again, this is a finely tuned serene, sensual, sensitive performance with dark, dramatic insight and poetic imagination.
Showtimes
5 – 18 August (not 12th) @ 22.00
Ticket prices: £10.00 (£7.00).
Age guidance: 16+