Image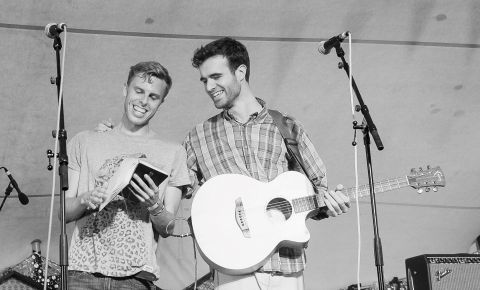 Company
Avalon Productions Ltd
Performers
Harry Baker, Chris Read
Harry and Chris are two genuine best-mates taking their best-matery and their individual talents to create the hottest comedy-rap-jazz duo. This year's Fringe show, Harry and Chris Save The World, brings an original and uplifting performance that keeps their audience entertained at every turn.
Harry and Chris's original saving of the world can be found in The Mash House's Cask Room. Here, the duo combines Harry's inventive lyricism and punalicious language with Chris's musical ingenuity to put on a truly capturing and uplifting show. From ice-cream resumés to climate change to history's various Armageddon's, the audience is offered brilliant laughs and many moments to participate.
One of the most impressive aspects of the show is Harry's freestyle rap. Even the shyest of audiences are persuaded to shout out ten words, and, in a performance that you have to see for yourself, Harry combines all the words into an original piece. Chris's jazzy and intricate guitar playing with his own soulful singing keeps the hilarious and ingenious off-the-cuff rhymes held to a professional front.
The goal of Harry and Chris Save The World is to remind us that, as said in a particularly powerful song, "we're still here". The duo's positive outlook on the future has the audience leaving the show on a feel-good note, somehow having had any potential cheesiness melt away in their skillfully performed and catchy songs. The bromance between Harry and Chris is perhaps what makes them both appear so at ease on stage, and even after years of performances and sell-out shows they still have just as much fun as their audience. You'll hear everything from panda romances to how the world may end and be left—as cliché as it sounds—feeling a little more hope in this messy and hilarious world.
Make sure to catch these two ahead of their nationwide tour from 2nd October.
Times: 4-12, 14-25 August, 2:25pm