Image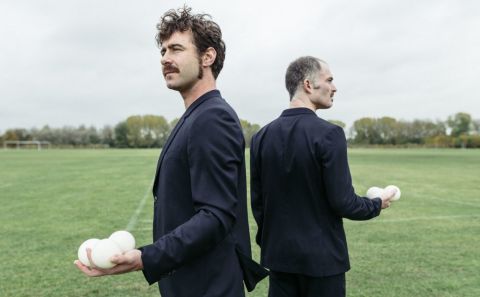 Production
Gandini Juggling
Performers
Chris Patfield and Jose Triguero
Question: How do you fill 50 minutes with juggling and still maintain the interest of the audience? Answer: you probably can't, unless you have something really exceptional.
Chris Patfield and Jose Triguero are two exceptional jugglers, there's no question about it. As well as impressive conventional juggling ball tricks (they work exclusively with balls in this show), they have also developed a style of juggling together that in its inventiveness and grace is as much a dance as it is circus skill. Limbs weave and entangle each other in synchronicity, as they glide around the stage, all the time balls being passed off to each other, launched and caught off different parts of their body. It's mesmerising to watch them move together constantly exchanging these small white spheres with great finesse.
However, like songs in a musical, their juggling routines need a dramatic thread to set them up.
At least, this must be the logic behind making Gibbon as much a window into the process of developing their intricate routines as it is a display of the juggling routines themselves.
Just when you are beginning to get into the flow of the juggling, the two stop to have a discussion. Sometimes one of them wants to rehearse a series of moves or comment on the choice of music; sometimes one of them has taken offence to the intent behind the other's movement and they briefly fall into something like a lovers' tiff.
They also frequently drop the balls on the floor with a thud. Much of the time this is deliberate. They even drop the balls in rhythm together. At other times they are misses - some of the juggling moves are ambitious - which they are adept at smoothing over fairly seamlessly.
This stop-start structure initially is quite amusing, and helps one appreciate the complexity of their choreography, but it eventually feels like de-constructivism taken too far.
While the pair's distinctive juggling technique is impressive, even with drops, the dialogue around the juggling seems like padding. This show would be much more satisfying if a stronger dramatic thread could be built around the two's obvious skill and artistry.
Runs till 25th 1.30pm