Image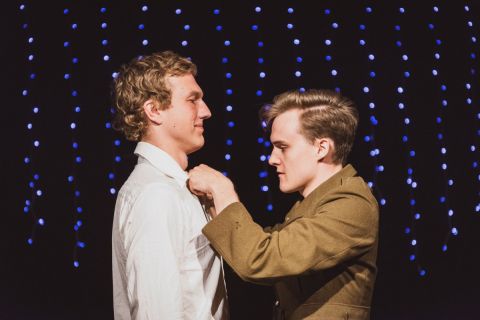 Production
Anna íris Pétursdóttir (Writer & Director), Sophie May Nicholls (Producer), Viktor Ingi Guðmundsoon (Composer)
Performers
Fannar Arnarsson, David Barclay Fenne, Halla Sigriður Ragnarsdóttir
Making their home in the Army Base in conjunction with [email protected], British/Icelandic theatre company Rokkur Friggjar return to the fringe with a new play set in World War II.
After the British invaded Iceland in 1940, British and American troops were stationed in occupation. One such is Thomas (David Barclay Fenne), a young and untested British soldier who is stationed at Hvalfjordur, the home town of Siggi (Fannar Arnarsson) and Gréta (Halla Sigriður Ragnarsdóttir). The two friends have grown up together and spent their lives in each other's company and confidence, but now they are nearing adulthood things are changing between them. When they meet Thomas, everything is turned inside out.
Forget Me Nots is a beautiful tale about the three of them, about their love for each other and how that shapes them. It is told through a series overlapping and interactive monologues from Thomas and Siggi, set to physical theatre as first the characters meet, grow intimate and are forced apart. The progression between them is very moving and gracefully put forward, and their intimacy is elegantly realised through the physicality of their storytelling.
Although a mainly silent character, Greta plays a far more significant role in the relationship than either Thomas or Siggi would want, and yet by the end it is she who unites them. It is a sad story of hope and hopelessness but ultimately of love, and through Rokkur Friggjar's gentle narrative the lasting message of a forget-me-not overcomes the greatest obstacle of all.
A symbol of true love, fidelity and memory, Forget Me Nots is an intimate love letter to these characters.
Until 21st, not 20th