Image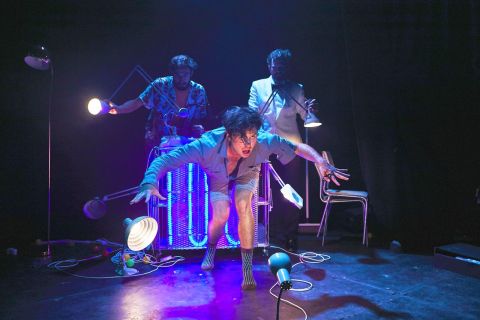 Company
Les Enfants Terribles & Pins and Needles Productions
Production
Oliver Lapsley (Writer), Kid Carpet (Music), Emma Earle & Hannah Drake (Directors), Zoe Squire (Design), Chris Swain (Lighting Design), Jon Everett (Sound Design), Matt Revell Griffiths & Mim Evison (Stage Managers).
Performers
Piers Hampton(Fly/Dr), Harry Humberstone(DJ), George Readshaw(Dennis)
Olivier Nominated company Les Enfants Terribles (Alice's Adventures Underground) have teamed up with Pins and Needles Productions (The Bear, Mr Popper's Penguins) to bring you Flies. As droll as it is dramatic, this macabre black comedy delves into the minds of a man who is going mad, and the fly that is pushing him there.
Dennis is deathly afraid of flies and it is pushing him to the brink of insanity. Determined to face his fear, he puts himself in the ring with his fear and begins a fight to the death.
As the fly Piers Hampton is outstanding, embracing every vindictive word as the fly boasts his conquests of defecation and infection - many of which you will have heard of. You know the one about the woman who swallowed a fly?
Facing off against this powerful creature is George Readshaw's Dennis - a timid man who is facing tireless trauma and a sticky downward spiral, all of which is executed with commendable physicality and expression.
Oliver Lansley's absurdist comedy is utterly ensnaring from the first boysterous 'buzz' entwining razor sharp and dangerously dry humour. There is no relent for Dennis as the world Lansley has created engulfs his every thought, and there is no relent for the audience who simply can't look away - even when the going gets grim.
Flies is laden with a visceral vulgarity, and an artistic styling that has no competition. Lansley's satirically sadistic script entwined with the live mixing of Kid Carpet's devious music has created a show of such individuality and intensity that it could only be created by Les Enfants Terribles.
Runs 1 - 27 Aug (Not 20)