Image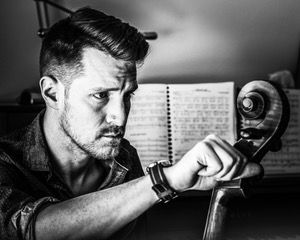 Company
Strange Fangs Song Factory
Production
Mario Moroni (writer), James Wright Glasgow (composer)
Performers
Mario Moroni (poet), James Wright Glasgow (musician).
Do You See What I Hear? is a collaboration by two award-winning performers, one a composer and the other a poet. The show is inspired by the tradition of contemporary avant-garde composers collaborating with poets to produce exciting and new performance pieces.
Composer James Wright Glasgow creates atmospheric, eerie, and haunting pieces that act in conversation with poet Mario Moroni's pieces. The music in this show is incredibly modern and inventive; the use of piano, electric cello and looping pedal is a particularly experimental and capturing aspect of the performance. One piece that stands out is a section dealing with reflections, one such poem revolving around the aspect of time. The music is original and operatic, the dramatic reading striking and rhythmic with the tick-tock of a clock, and the floating-word projects a powerful and fitting addition to the entire piece.
Unfortunately, the poems don't often match up to the beautiful word projections, coming either too early or too late. The poetry, too, feels inaccessible at times, the language difficult to connect with in a performance that craves a dramatic arc or story for the audience to follow. Due to this, the relationship between the talented musician and revelatory poet isn't fully realised, the emotive power and the reflective profoundness becoming slightly lost in the midst of avant-garde projections and vocal sound effects.
This ambitious, reflective, and emotional performance of modern music and introspective poetry could do with some fine-tuning to become the dynamic act that the performers set out for it to be.
Aug 21-27, 6:50pm