Image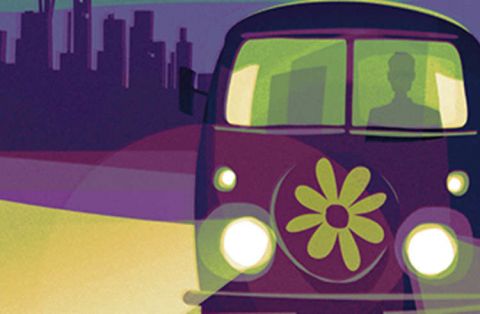 Company
BBC Arts and Avalon Promotions
Production
Beryl Richards (writer), Jane Moriarty (director), Louie Whitemore (designer), Sarah McColgan (lighting), Ed Lewis (sound), Bella Lamplough Shields & Imogen Smith (producers)
Performers
Nancy Baldwin (Betty), Jenny Lee (Annie), Eoin Lynch (Jordan), Amy McAllister (Mondie), Stuart Milligan (Norm) and other characters played by members the cast
A series of plays being performed at the Festival Fringe 2018 is the result of a creative initiative by BBC Arts and Avalon. Written by BAFTA award winning director Beryl Richards, the play follows Jordan, a 40-something plastic surgeon on a journey of discovery to search for the truth following the death of his birth mother, Diamond.
In the opening scene, Jordan is in a lawyer's office hearing the contents of his mother's Will from which he will receive the bulk of her estate, a bag of clothes, jewellery and the keys of her beloved campervan. But there is a proviso whereby he must deliver the old RV to someone in Quartzsite, Arizona but he just wants to get back to work in Seattle. A chance encounter with a teenage hitchhiker, Mondie, who has a sense of mystery and persuasive manner, ("I can be your navigator" she promises), makes him question the right thing to do and pursue Diamond's dying wish.
Placard signs, Gas, Food, Lodging, and Interstate 84 are flashed up as we then meet three friends, Annie, Betty and Norm wrapped up in parka jackets, camping overnight while on their annual pilgrimage to a music festival. Jordan and Mondie meet this cheery trio of elderly hillbilly hippies and find out that Annie had been Diamond's best friend. She says that his mother had been so proud of him going to Med school, "She missed you." Jordan responds angrily that this is untrue as he never knew her, having been adopted at birth. As we know this from the play's blurb, it's not the dramatic revelation it purports to be.
The cramped staging at the Dairy Room has no wings and after each scene, a few of the actors trudge up and down the squeaking steps beside the audience which is a real distraction.
The connection between Annie, Bettie and Norm is not well explained and the fact that they do or say nothing to enhance or develop the story creates a meandering maze with many dead ends. At a Christmas party, the happy campers burst into a yodelling song, wear Santa hats and Diamond's old wig. With other unnamed characters along the way, it's all rather chaotic and confusing.
Mondie, quietly performed with emotional depth and sincerity by Amy McAllister, stands out as the most fully rounded, colourful character; she has clearly had a tough upbringing, a vulnerable young girl despite her thick skin and independent spirit. Unfortunately, Eoin Lynch is not given the opportunity to express more behind the moody, melancholic personality of Jordan in order for us to empathise and understand his "Long Lost Family" plight.
This debut play would work far better as a dynamic, double hander concentrating on the fascinating relationship between Jordan as a caring father figure to the strong minded Mondie, driving off in Jack Kerouac mode to the Arizona desert. With its current sketchy map of a script, this road trip is off the beaten track and a sat nav is required to guide Diamond's battered campervan in a new, straight direction along the highway.
Show Times
1 – 26 August @ 16.15
Ticket Prices: £16 (£14), £14 (£13).
Age guidance: 8+