Image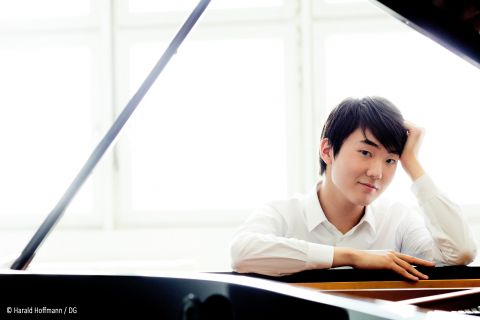 Company
Edinburgh International Festival
Production
Edinburgh International Festival
Performers
Seong-Jin Cho (piano)
The Edinburgh International Festival morning chamber concerts and recitals at the Queens Hall are always a delight to attend. This morning the South Korean pianist Seong-Jin Cho gave a recital to a packed house of two Beethoven Sonatas and Chopin's four Ballades.
Beethoven wrote a total of thirty-two sonatas and Seong-Jin Cho began the recital with his Pathetique Sonata in C minor, No 8. Beethoven is often played with a certain amount of rigidity but Seong-Jin Cho is a wonderful pianist with a superb technique, and combined with his sensitive interpretation he gave a superb performance of this familiar piece.
He followed it with the less known Sonata in E major No 30 and again interpreted the music with beautiful lyricism, particularly in the middle movement.
Seong-Jin Cho's interpretation of Chopin's four Ballades was spellbinding. He plays much Chopin and two years ago, at the age of twenty-one, won the world renowned Warsaw Chopin International Piano Competition.
Chopin's Ballades express almost every emotion – tranquillity, turbulence, passion – and are particularly challenging for any pianist as they juxtapose technical expertise with exquisite tenderness.
Seong-Jin gave an unforgettable performance. He combined technical brilliance with superb subtlety and will surely soon develop a reputation as being one of the best pianists in the world.