Image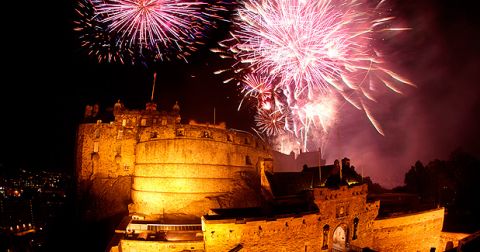 Company
Scottish Chamber Orchestra
Production
Sir Malcolm Arnold; Four Scottish Dances
Donald Shaw; At the Heart of it All (cf. Capercaille's 30th album)
TRAD: arr Donald Shaw & Karen Matheson; Cha Teid Mor
TRAD: arr Kevin Macrae, (sung by Karen Matheson); Ae Fond Kiss
Macmillan; Stomp (with Fate and Elvira)
Tchaikovsky; Sleeping Beauty, op 66a
Maxwell Davies; An Orkney Wedding, with Sunrise
Performers
Clark Rundell (conductor)
Karen Matheson (vocalist)
Robert Jordan (bagpiper)
Clearly, this is the world's biggest and most spectacular annual fireworks concert, and an explosive evening of entertainment awaited us. The interdependence between the music, and the firework repertoire, was beautifully choreographed and co-ordinated. The concert additionally marked the 70th anniversary of the Edinburgh International Festival, with thousands of people in attendance.
There was a real sense of anticipation and participation, of party and presence; and the performance ran seamlessly. Although the activities from the bandstand were broadcast over the loud-speakers, there was inevitably some slight disconnection with the audience. While people were there for various and divergent reasons, this was nonetheless hugely appreciated - and was being sent viral on Social Media throughout all the evening.
We began with a short but rousing introduction with the movements from Arnold's Scottish Dances. The Shaw items were performed to underlie the theme of 'respect', and the commentary brought this out very clearly. There were great moments of beauty, sentimentality, and haunting harmonies; but also an underlying current involving redempdtive and salvific musical themes.
Thence we left Scotland, and moved on to Russia, with Tchaikovsky. This was a brilliant musical performance, though inevitably - in some ways - overshadowed by the brilliant cascade of fireworks. The final Davies' item celebrated the fun and frivolity of an occasion such as this, and, in combination with the fireworks, gave us an absolutely fantastic conclusion to the evening.
We were treated to insightful descriptions of how the music that was chosen mirrored Scottish heritage and political landscape, and the tensions - and joys - therein involved. The performance finished at 10.20pm.
Performance: Monday 28th August 2017 at 9.00pm