Image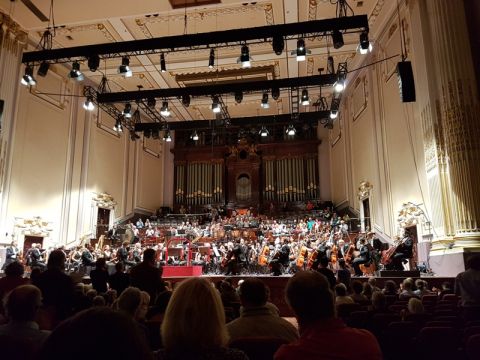 Company
Filarmonica Della Scala
Production
George Enescu - Romanian Rhapsody in D major
Bela Bartok (revised by Tibor Serly) - Viola Concerto
Dmitry Shostakovich - Symphony No 12 in D minor
Performers
Riccardo Chailly (conductor)
Julian Rachlin (viola)
We began with the Enescu recital - the two Romanian Rhapsodies are by far the best loved of his compositions - and the full orchestral range brought out the depth and breadth of this particular work. A highly professional performance gave audible voice to an underlying musical tension behind the score. There were dramatic cadences, with brilliant climactic sections; there were beautifully crafted crescendos, which nonetheless moved into a most soothing conclusion
The Bartok section brought the solo viola part to prominence, and revealed melodic lucidity and harmonic restraint. The accurate synchronization between the violist and the other instrumentalists ensured that this performance was musically accomplished in its entirety.The conductor's expertise clearly shone through. For something so complex, this seemed to be so naturally and beautifully performed; the audience were entranced by the skill and talent displayed - not least by the exhilarating concluding sequence.
Following the Interval came the Shostakovich's Symphony No. 12 in D minor, which began with a haunting and rousing introduction, engaging everyone straightaway. Much about the composer was contained in the very informative programme - particularly the links with Lenin, and how the work was centred around his life; these details gave the recital an added dimension and meaning. We much enjoyed listening to a tableaux of musical themes: from the frenzied, sonata structures, the noble and patriotic, the thoughtful, ominous & meditative - yet all redolent of the person, Lenin, himself. The finale, with redemptive force, gravely - but carefully - assimilated the various aspects associated with the Revolutionary themes - and crucially with Lenin, the person.
This performance was a pure joy and pleasure to see. Clearly appreciated by all, there was a unanimous call for an encore.
Performance: Saturday 26th August, at 7.45pm