Image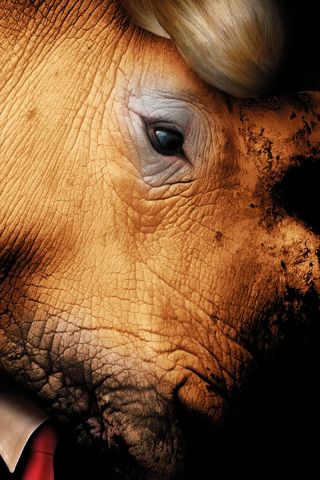 Company
The Royal Lyceum Theatre Edinburgh, DOT Theatre Istanbul and Edinburgh International Festival
Production
Eugène Ionesco (writer), Zinnie Harris (adaptor), Murat Daltaban (director) Oğuz Kaplangi (music),
Tom Piper (set and costume design), Chris Davey (lighting design), Deborah Natanson (literal translator)

Performers
Natalie Arle-Toyne (Café Proprietor/Mrs Boeuf), John Cobb (Old Gentleman), Ece Dizdar (Papatya), Esin Harvey (Housewife), Robert Jack (Béranger), Oğuz Kaplangi (cat), Myra McFadyen (Grocer/Papillon), Steve McNicoll (Jean), Sally Reid (Grocer's wife/Botard), Harry Ward (Dudard,)
'They're aa oot o step but oor Johnnie!' So claims the old Scots saying as a proud mother watches a parade of soldiers who are all marching in time - except her son.
The question raised in Eugène Ionesco's 1959 absurdist classic, Rhinoceros, adapted by playwright Zinnie Harris for this new Turkish/Scottish production is this: if everyone around you is walking to the same step, is it best to conform or to march to your own tune?
When a small town that finds its inhabitants are gradually turning in to rhinoceroses, only the shabby and dissolute civil servant, Bérenger, captured well by Robert Jack, remains human. He is the last man standing – the only one who doesn't want to 'fuck, fight, trample'; the only one clinging to the importance of being a mensch.
Rhinoceros is an exposé of human behaviour, conformity and communication viewed through the prism of absurdity: absolute logic applied to a completely ludicrous situation and Harris's adaptation brings these ideas smack into 21st century Edinburgh. Her script is peppered with self- referential language like 'absurd', 'bonkers', and current references (like the EIF!) without losing the spirit of Ionesco's original text.
The superb Scottish and Turkish cast, under the astute direction of Murat Daltaban, a founding partner of DOT theatre, act as a comedy chorus at the start. The heightened style that verges on pantomime is reflected in the costumes from Tom Piper whose incredible layered and colour changing set strongly references Ionesco's The Chairs. Eastern sounds and live foley and music on stage from Oğuz Kaplangi adds to this outstanding production.
Up to his stunning metamorphosis and subsequent departure to join the collective rhino thundering, so reminiscent of jackboots, Steve McNicoll is utterly pivotal as Jean and Myra McFadyen does a great comic turn as the teddy boy grocer.
This winning international collaboration makes for a fantastic night at the theatre! Just hope you never have to say, as Bérenger did, 'My friend is a rhino!'
Rhinoceros will be performed again in March as part of The Lyceum's 2018 Spring Season.
3 – 12 August 2017, 19.30