Image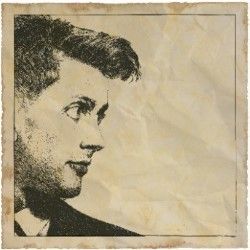 Company
Ross MacKay, Freshley Squeezed and The Uncertainty Principle
Production
Ross MacKay (Director) Suzie Miller (Writer), Jim Harbourne (Onstage Music & Composition) Andrew Gannon (Lighting Design), Becky Minto (Design)
Performers
Scott Gilmour (James MacGregor)
On trial for a crime he believes he did not commit, young medium James McGregor stands accused of murdering his brother and spiritual partner, Thomas. Accompanied by the stunning musical composition of Jim Harbourne, Scott Gilmour performs with unwavering energy, the thought provoking writings of award winning playwright Suzie Miller.
Sat at the gallows, we follow James McGregor as he tells us the story of how the death of his brother came to be. With illusions at every turn, it is a wonder that the jury is not too blinded by wonder to condemn this man. By contacting his brother though mediumship, the youngest McGregor attempts to prove his innocence but simply asking the late victim 'whodunnit'.
Despite having roots firmly placed in the realms of spiritualism and belief that a fortunate few hold the ability to contact the dearly departed, this piece of pure intrigue does not require cynics to go elsewhere as they bypass the tentative subject and focus on a far more innocent concept - belief. Through the childish act of a pact - nor brother should ever lie to the other - following the death of their mother the boys began setting the wheels in motion for an unlikely end.
From his kitchen table at home, to the barn out back and later the gallows, Becky Minto's set is to be commended for its outstanding versatility. Without sacrifice of starkness or surprises, Minto has designed a wooden construct malleable enough for a child to play and a man to die.
Miller's intricate writings focus on the simplicity what it is to trust, therefore your willingness to trust the accompanying illusions increases as you don't feel like you're having belief systems pushed past one's larynx, nor awaiting Gilmour proclaiming 'someone's coming through'. Instead, a case to put the the jury of a man who simply believed in his big brother.
Running 3-28 Aug (Not 15 & 22)
Assembly Hall, 4.30pm
Tickets available:
http://www.edfringe.com/event/2017VELVETE_AU