Image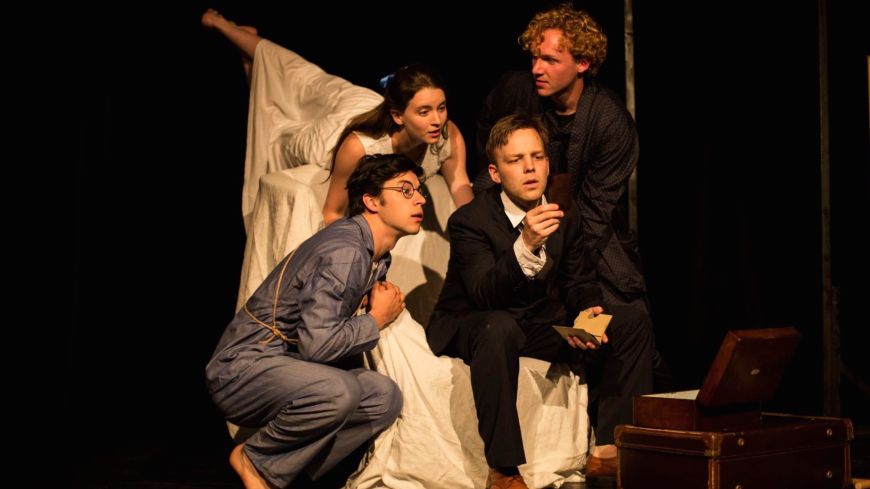 Production
Devised by Adam Gordon, François Lecomte, Harriet Feeny and
Preben Rongve. Company Sound Operator Marco Andreatta
Performers
Adam Gordon, François Lecomte, Harriet Feeny and Simon
Gleave
With two sheets, toy swords, one chair and a large chest, Tooth and Nail take you on a trip around the world with beautiful childlike vivacity.
The true story follows four children Eddie, Oliver, Constance and Theo as they play out their own parlour game fantasy that involves romance, adventure, an evil villain, a rescue mission, and remnants of gothic horror classics like Dracula and Frankenstein. The best thing is that they do this all with perfect timing in the style of a silent film; almost the whole performance is lit by the children themselves with torches and using intertitles to punctuate the finer points of their elaborate improvisation.
As the children create and play with their adventure, disagreements happen. It isn't a completely silent play; although the most fantastic theatre craft happens within the children's story to perfectly chosen classical music (including Mozart's Lacrimosa, Vivaldi's Four Seasons and Bach's Toccata in D, all suitably gothic) that narrative is punctuated with endearing arguments between the four of them as to what should happen in the story.
Adam Gordon is particularly funny as the evil count, throwing semi-tantrums and flouncing around. The cast are a tight company and wonderfully in tune with their inner child.
The silent adventure is framed by an older Theo coming back to the room in which they played eighteen years before. There is a moment of sadness as to that conclusion, but most of the piece is enthusiastic child's play.
What makes this wonderful is the innovative way it is staged with the retro, black and white film reel a stroke of genius. An enchanting and delightful show full of innocence and fantastic staging.
15th-28th August, 4pm