Image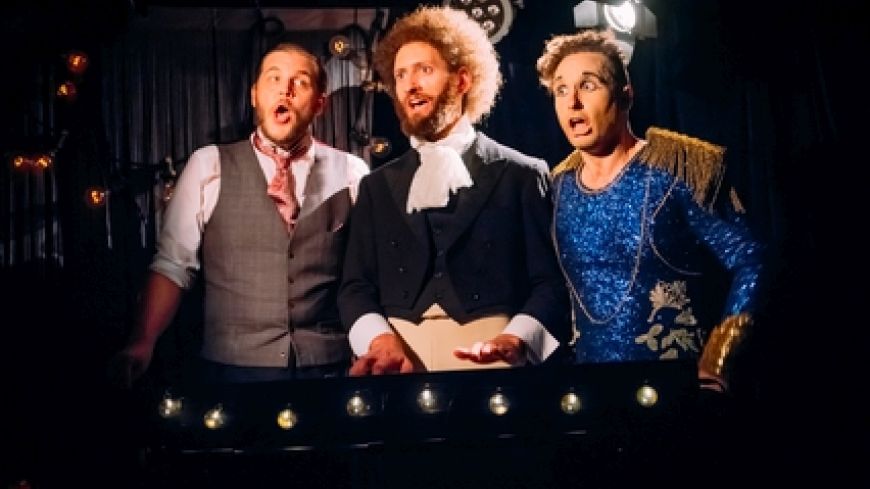 Company
Aine Flanagan Productions and Seiriol Davies.
Production
Seiriol Davies (writer / composer), Alex Swift (director), Verity Quinn (designer) Dan Saggars (lighting designer), Dylan Townley (musical director), Eve Leigh (dramaturg).
Performers
Seiriol Davies, Matthew Blake, Dylan Townley.
It's the theatrical experience Henry Cyril Paget, 5th Marquess of Anglesey would have hope for. An ornate stage, colourful lighting and, most of all, an appreciative audience.
The three male cast members appear in period dress, but for the Marquess it's an altogether more spangly affair of sequins and huge epaulettes.
He explains that he is an aristocrat. He is lonely, but he is rich. He is worried, but he is a cross-dresser.
He has been told that huge things are expected of him but to be himself and this is who he is, a fantastic, narcissistic creature. When he inherits his peerage, he wonders what a marquess is for and decides, well, to be himself and sets out to bring art to the masses.
Family is history, but his life has been as he describes it "regrettable", and having scorched through his enormous inherited fortune he has been burned from the family records. History is written by the winners and even a quest by his fellow performers seems in vain as they can't buck peer pressure.
The theatre life which he thought mainstream spirals as he takes to the road chasing ever declining audiences. In Berlin, a glittering avant-garde butterfly-dance leaves even the fantastically eccentric Lord Berners confused.
Bust in Monte Carlo, he has one last chance to win against history – by playacting and following that other showbiz rule - give the people what they want.
This dazzling story is told is in the form of an even more glittering devised musical, full of wit and played with panache. Performances are outwardly as eccentric as the subject matter and pulled off with wide-eyed innocence and mischievous glee.
While we are told that it won't challenge us it throws up all sorts of questions from heritage and history to privilege and imperialism (won by natural superiority – and guns). Like all humour, the degree to which it hits the mark varies but it's unfailingly charming.
What it so harmoniously achieves is the connection the dancing marquess so craved; here a deserving and compliant audience are delighted to be manipulated, milked for applause, to ooh and aah and sing along.
The show knows how to win and there is little to dislike.
Show Times: 3 – 27 (not 14) August 2017 at 7.25pm.
Tickets: £13 (£12) to £14 (£13).
Suitability: U