Image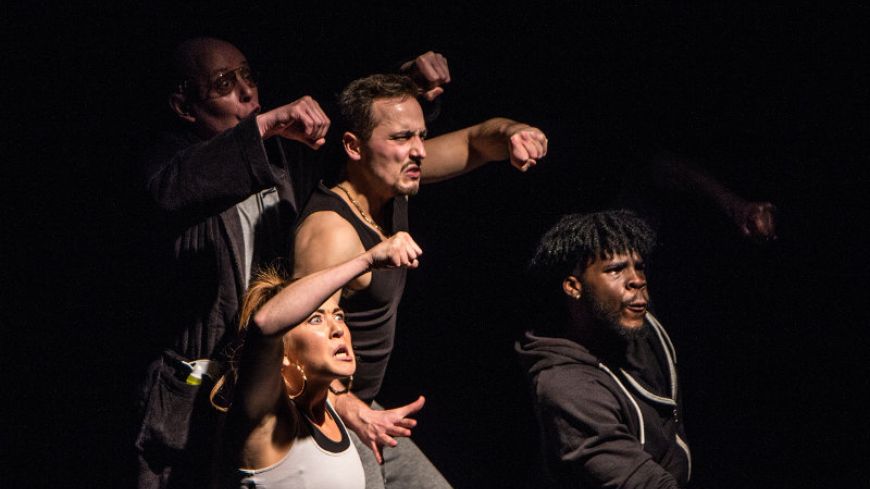 Company
Unpolished Theatre
Production
Elliot Warren (Writer & Co-Director), Olivia Brady (Co-Director)
Performers
Elliot Warren (Terrance), Olivia Brady (Kelly), Alessandro Babalola (Jamal), Michaela Jinks (Reiss), Nick T. Frost (Grandad)
There's no sneaking in the back door, or standing on the sidelines for brand new company Unpolished Theatre as they punch their way to the forefront of the Edinburgh Fringe bustle with debut production Flesh and Bone. As gritty and graphic as it is articulate and assertive, Elliot Warren's writing sits on the delicate edge of a council estate case study and fine literature.
From an East London Tower block, five residents connected by love, blood and other substances open their doors to let us in for a slice of the action. By way of monologues, cut away conversations and short sketches, we delve into the modern societal pressures that face top geezers today.
Without set nor suppression, the 5 strong cast exude unrelenting energy from beginning to end. Whether combatting an army of organised rats, to running a sex line whilst watching the tele, each actor plays their part in the delivery of a masterful script.
Warren's ability to intersperse commonalities of East London slang into a script with such poetic qualities cannot be ignored as it provides an richer eloquence even in the most vulgar of moments. Along with co-director and onstage partner, Olivia Brady, the pair have produced a hysterically clever piece of story telling that defies the need for dumbed down use of language - irregardless of postcode.
Written with gritty elegance and performed with pints of gusto, Unpolished Theatre's laugh a minute production is a literary marvel and an unapologetic piece of theatre - and it won't even cost you a score!
6 - 28 August at 16.00