Image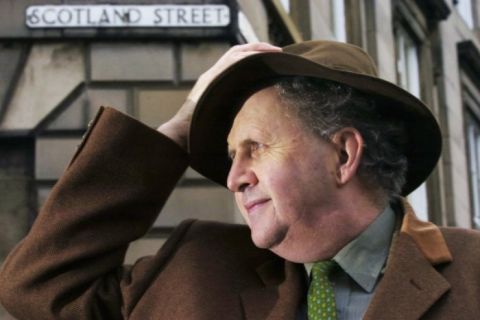 Company
Edinburgh International Book Festival
Performers
Alexander McCall Smith, Alistair Moffat (chair)
There is happy buzzing chatter from the capacity audience in the Main Theatre. For those who have had the privilege of witnessing a magical hour in the company of Alexander McCall Smith know they are in for a richly entertaining conversation.
The presenter is Alistair Moffat, author, historian and director of the Borders Book Festival. He introduces the event by describing Mr McCall Smith as a literary phenomenon, a writer we would have had to invent if he didn't exist. The 12th volume in the popular Scotland Street series, "A Time of Love and Tartan" has just been published, which Alistair was reading on the train up to Edinburgh. "Is the Borders Railway a success?" enquires Alexander. "Oh hugely, half the audience here are from Melrose!," he jokingly replies.
The humour sparkles with quick wit and wisdom as they discuss the myriad of characters in each fictional series. An interesting question: how does he keep all the characters compartmentalised in his head? McCall Smith explains that they all have different voices, different worlds. Mma Ramotswe, the lady detective, likes to sip Bush tea, while Isobel Dalhousie is partial to a glass of New Zealand Sauvignon Blanc.
All the characters from the Scotland Street and Isobel Dalhousie stories are so realistic. Readers have often suggested to him that Bertie could meet Mma Ramotswe or Isobel Dalhousie. Or anyone, he laughs. "Poor Bertie!" It's all about holding the suspension of disbelief without affecting the credibility of his novels.
Apparently an agent received a manuscript from a wannabe writer from Nigeria, which featured a description of palm trees in London. Alistair Moffat then revealed that the Scottish novelist, Allan Massie, who writes detective stories set in Bordeaux, has never actually been there and researched it on Google Earth.
McCall Smith writes about his own city, Edinburgh, with separate boundaries for the two series of novels. Isobel's world is around Merchiston where he also lives, but he has never met her.
Readers are keen to do so, and one gentleman asked for her phone number. He suggests that other similar ladies can be found in Morningside, at the Book Festival and Waitrose.
There are anecdotes about a few unwitting mistakes such as changing people's names or marital status, if facts are not checked. "I just blame the editor!"
Recurring themes in his fiction cover his interest in morality and social embarrassment. In the new Scotland Street novel, Matthew is in a bookshop, glancing through "50 Shades of Grey" when he sees his former English teacher beside him, much to his chagrin. What he finds about Edinburgh middle class society is the air of disapproval: he often eavesdrops on real life conversations such as " For those who like that kind of thing, that's the kind of thing, they like," as he hoots with infectious laughter.
Authenticity is also based on little cameo roles for people and places he knows, such as politicians, the Scottish Gallery, and Valvona & Crolla.
Mr McCall Smith then gives a brilliantly dramatised reading about Bertie, his father and Randall going to a rugby match at Murrayfield. He is just marvellous at the voices and relishes the hilarious tale, as if he hadn't written it himself.
Questions from the floor cover such hot topics as "Will Bertie eventually grow up?" and "Why is Stuart still married to Irene...can't he kill her off!?" But according to the author, nothing nasty is likely to happen.
The lives and loves of his characters are clearly so believable that readers feel they know them like friends. And it is this tangible sense of place, sweet romance and comedic adventures which create such charmingly evocative stories.
This event took place on 19 August, 2017
"A Time of Love and Tartan" by Alexander McCall Smith (Polygon)
(Scotland Street series)
"The Bertie Project" by Alexander McCall Smith (paperback, Little, Brown)
(Scotland Street series)
"A Distant View of Everything" by Alexander McCall Smith (Little, Brown)
(An Isobel Dalhousie novel)
"The House of Unexpected Sisters" by Alexander McCall Smith (Little, Brown)
(No. 1 Ladies Detective Agency)