Image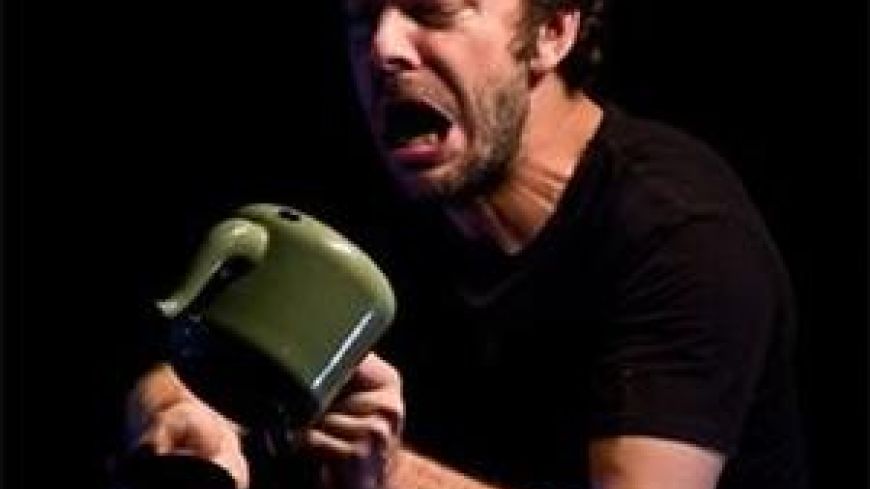 Production
Olivier Ducas & Francis Monty (Adaptation & Stage Direction)
In this highly imaginative adaptation of Alfred Jarry's Ubu Roi - a farcical parody of Macbeth - an epic tragedy is enacted on a small table-top with everyday objects as puppet characters. Highly acclaimed and award-winning, it has been performed more than 800 times in 13 countries.
The success of the piece depends to a large extent on the clever choice and manipulation of familiar objects in unfamiliar ways, either as characters in the plot or transformed into something else. Some choices work better than others and there is the inevitable risk that objects without moveable parts become one-dimensional.
The central figure of Ubu, imagined as a round bottle half-filled with blood-red salad dressing, is hard to enliven. His wife - a flouncing mop - and her lover - a bouncing hammer - are more interesting, and the murdered king and orphaned prince most successful as little and large teapots; at least their lips can move.
There is a protracted piece of business involving the execution of a line of noble spoons by means of the fiendish Debraining Machine, bizarrely conceived as a wooden ruler, and a cup-and-ball game seems oddly out of place as a one-eyed spy, unlikely to pass unnoticed in the kitchen.
In the final scene, the little table becomes a vast battlefield where mighty armies collide. Rank upon rank of cutlery sweep across the plain as Ubu makes his last stand, while egg-beater gunships whirl overhead. The battle rages until finally the ultimate weapon is deployed, and there is a lot of clearing up to do.
All this mayhem is in the hands of the two men in black who provide the frantic energy to animate the action, their muttered exchanges in half-heard French adding another layer of absurdity.
August 5-28 (not 22)
Tickets £12 (£10)