Image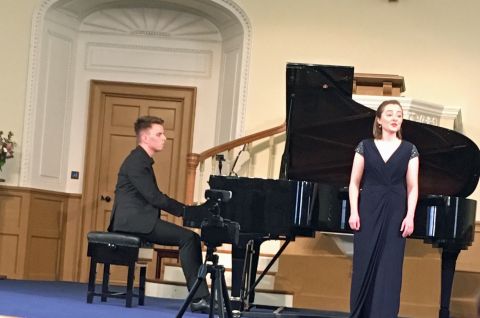 Company
St Andrew's and St George's West at Festival Time
Production
Schumann, From Myrten op 25 Weit, Weit, Hochländisches Wiegenlied; Franz, My love is like a red, red rose, From Myrten op 25 Hauptmann's Weib, Im Westen; MacMillan, Three Scottish Songs, Ballad, The Children; Francis George Scott, The Love-sick Lass, Ay waukin, O, The Discreet Hint' MacMillan, Three Scottish Songs, Scots Song; Falcom, Amor; Cage, The Wonderful Widow of Eighteen Springs; Charles, song.
Performers
Rachael Liddell (mezzo-soprano) and Jamie Lang (piano)
It was a delight to hear two of last year's graduates of Edinburgh Napier University music department give their debut Fringe recital. Rachael told us that it was a recital that was transatlantic. She was quickly into songs by Schumann and Robert Franz sung in German. Immediately it was obvious how very comfortable it was to be listening to her lovely mezzo-soprano voice.
After a short break were back, this time explaining that they were to perform Scottish songs largely based on the works of Robert Burns. As Ballad came to an end we took note of Jamie Lang at the piano with the deep deep notes. The Love-sick Lass is a favourite, Francis George Scott's setting of a poem of Hugh MacDiarmid, a former pupil.
American composer William Bloom's Amor was great fun, and Rachael's facial expressions added considerably to its enjoyment. John Cage, another American, wrote The Wonderful Widow of Eighteen Springs. Famous for his unconventional use of musical instruments we watched Jamie Lang banging on his piano in accordance to the composer's instructions.
In a change to the advertised programme the recital finished not with the song listed but another by American composer Ernest Charles. The audience, clearly well supported by family and friends, loved it all and the length of applause told all.
Performance: Monday 15th August 2016 at 16:30