Image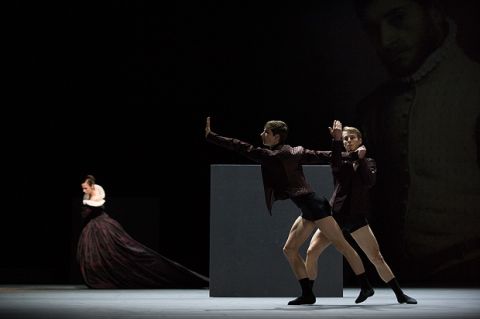 Production
Wayne McGregor and Christian Spuck (choreography), Max Richter, Philip Glass, Mozart, (music), Idris Khan, (stage design), Moritz Junge, Emma Ryott (costumes), Lucy Carter, Martin Gebbhardt (lighting).
Performers
Katje Wunsche, Viktorina Kapitinova, Juliette Brunner, Giulia Tonelli, Melissa Ligurgo, Alexander Jones, Manuel Renard, Matthew Knight, Tars Vandebeek, Surimu Fukushi, Wei Chen, Andreii Cozlac, Christopher Parker, Melanie Borel, Pornpim Karchai, Irmina Kopaczynska, Constanza Perotta Altube, Chinatsu Sugishima, Filipe Portugal, Cristian Alex Assis, Eric Christison, Benoit Favre, Tigran Mkrtchyan, Daniel Mulligan, Dominik Slavkovsky, Michael Samuel Blasko.
Sonett: Eva Dewaele (The Dark Lady), Mireille Mosse (The Poet's Shadow).
At the end of the UK premiere of 'Kairos' last night, Ballett Zurich received a standing ovation from the Playhouse audience, as the dancers took another curtain call to the cheers from the front Stalls to the Gods.
The synchronicity of lyrical choreography, vivacious Vivaldi soundscape and cool design, gel together as an artistic masterpiece. This is the fourth work on which Wayne McGregor has collaborated with composer Max Richter; here his 'Recomposed Four Seasons' envelop the movement with both dynamic energy and melancholic mood.
Through a gauze screen depicting the orchestral score, Spring awakens with a burst of strobe lighting and flashing, fragmented images of the dancers. Like the calm after the storm, the sonic waves of strings accompany a duet, partnered with gliding grace.
Shifting through time and space, light and shade, the rhythms of the seasons flow on with dramatic tonal intensity. The choreographic patterns are fully immersed in the music, note by note, step by step; fast paced sequences performed with sleek, slick physicality and meticulous, en pointe, precision.
Ballett Zürich's Artistic Director Christian Spuck was inspired by Shakespeare's poetry for his work, Sonett.
'A woman's face with nature's own hand painted,
Hast thou the master-mistress of my passion; ..'
Shakespeare's Sonnet 20 is regarded as a homoerotic message to another man, while his Dark Lady poems describe an anonymous temptress, 'my female evil' and 'my bad angel.' Recent research indicate she may have been 'Lucy Negro' or 'Black Luce' who ran a brothel in Clerkenwell.
The backdrop features a giant portrait of a handsome young Venetian Renaissance gentleman. To the filmic score of Philip Glass's Symphony 8, the Dark Lady, dressed in a lavish crimson silk gown with white ruff, sweeps majestically across the stage - reminiscent of Meryl Streep in 'The French Lieutenant's Woman' in flowing cloak parading along the Pier.
Shakespeare is the Poet's Shadow, an androgynous character, portrayed by Mireille Mosse like a mischevious Puck-like sprite. She recites the sonnets in French embracing the eloquent musicality of the language.
Two dozen dancers – the men in particular are stylishly dressed in neat box jackets and frock coats - throw themselves into a complex array of intimate duets, each couple entwined on an individual small platform. With flourishing gestures, the emotional passion of the love songs is dramatised, while the Dark Lady criss-crosses the stage, a haunting figure deep in silent thought.
With the elegant manner, mysterious intrigue and painterly vision of Greenaway's 'The Draughtsman Contract', Spuck has created a richly imaginative and enigmatic, theatrical ballet.
Show times
27 - 29 August, 2015 @ 7.30pm.
Ticket prices £10 - £32