Image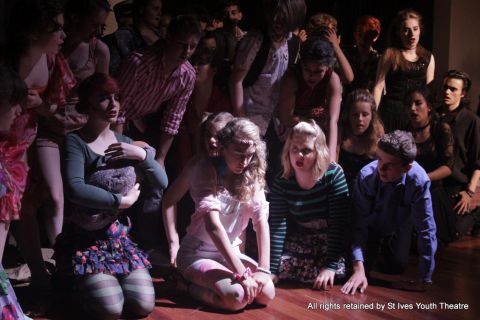 Company
St Ives Youth Theatre
Production
Francesca Morgan (Director), Brian Carter (Musical Director), Tricia Lloyd (Costumes)
Performers
Ella Stavrou (Bernadette), Joe Drye (Peyremale), Dan Davies(Jean-Luc), Lily Mead (Marie-Helene)
Lourdes as party central is an interesting but thoroughly enjoyable concept that might cause a few raised eyebrows for members of the Roman Catholic Church.
Two hitch-hikers deciding to give up camping and find accommodation, ending up in Lourdes where thousands of people go to visit the shrine of Bernadette. There are flashbacks to her vision and the subsequent industry that has grown up around the town. In a venue not that far from a statue of a wee dog and Bobby's Sandwich Bar, the use of any story to create a tourist industry cannot be criticised.
Bernadette played by Ella Stavrou has some of the more difficult and plaintiff songs but handles them well and projects better than a couple of the lads.
The other songs are of different genres, from the comic ones with the 'professionals' to raucous chorus type songs that the cast of fifty plus deliver with gusto and with great movement and creativity.
The show causes you to listen intently while it is serious and smile broadly when it is not.
Francesca Morgan demonstrates a talent for using such a large cast in a confined space.
The lawyer and the priest are standouts among cast with lots of males topped by the narrator/bar manager. The female bar manager, Marie-Helene (I think) has a great stage presence and Bernadette has a stillness and serenity that fits the part. The solos are spread around so it is not just a few principals with chorus.
For all this talented cast to come from a relatively small town in Cambridgeshire is a tribute to all concerned.
Suitable for all. Runs to Sunday, 1.35pm