Image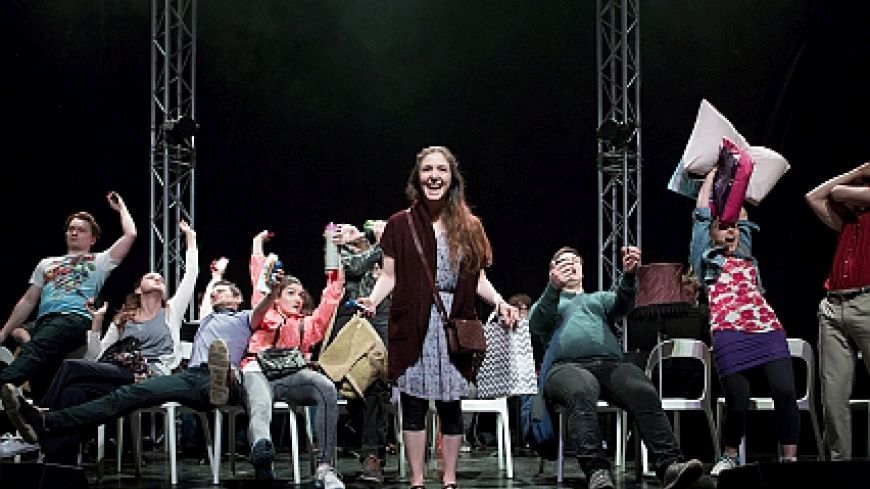 Company
Royal Conservatoire of Scotland
Production
E J Boyle (director), Katie Barnett and Megan Hughes (writers) Paul Marszalkowski (musical director), Richard Evans (designer), Grant Anderson (lighting designer).
Performers
Alicia Barban (Kelsey), Nicolette Macleod (Tabitha), George Arvidson (Dimitri), Graham Richardson (Duncan), Joel Schaefer (Will), Jonathan Logan (Kieran), Lisa MacGregor (Ellie), Matthias Weisschuh (James), , Rachel Jocelyn Stephens (Mariah), Sandra Preciado (Emily).
Detached amidst the crowd a girl stands on the underground platform. Snatches of conversations echo around her - You smell that?; They take drugs, I can't even handle chick peas; Children should only be allowed on the subway if they are leashed and muzzled.
While she finds herself stationary, waiting for her life to begin again, people with their own myriad problems move around her. We pass thousands of people a day, for a second we are invited into their world, and then they are gone.
She listens to messages on her phone, one wishing her good luck with the exam tomorrow, presumably from her father, and others offering support and condolences after his sudden death.
Time has run away form her and it's happening now all around her. People are being caught in the moment or rehashing the past, looking at choices and determining futures. We eavesdrop on the fallout from an you-only-live-once party, family squabbles, a planned return to kin who have become strangers and a mistaken marriage proposal. There is some nicely choreographed movement changing these scenes as the train fills and empties, the passengers lurching with each stop.
We are all ghost of what we used to be, nothing but shadows, memories. She will need to discover whether the darkness of this strange, transitory place will give her the room to move on.
The structure with its vignettes makes it feel like just what it is, a series of numbers that don't quite add up to a unified whole. The songs, with a mix of styles from ballad to gospel, are generally good and enthusiastically performed, though some solos are a bit weak.
Even in the darkest places there is light, and this entertaining piece of musical theatre reminds us to appreciate what we have in the moment.
Show Times: 7 to 31 (odd days only) August 2015 at 3.10pm.
Ticket Prices: £10 (£8) to £11 (£9).
Suitability: 14+