Image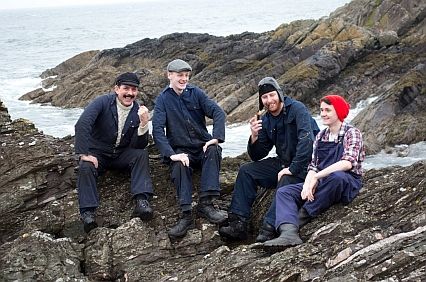 Production
Jeffrey Wilson (co-writer / director), Susan Wilson (co-writer / producer), Darren Lowe (Lighting / sound operator), Alysoun Sharp (film editor).
Performers
Euan McIver (Jim Gordon), Mark Vevers (Archie Donaldson), Jonathan Combe (Fraser Gillie), Frazer Smilez (Robbie McNeil), Bill McDougal-Inglis (Old Robbie), Charlie and Ben Truman-Lough (Grandchildren).
Picture this. Christmas 1959, the sub-Antarctic island of South Georgia, one of the remotest places on the planet, approachable only over rough, storm-wracked seas.
Here we find the a group of whalers setting up a cinema projector brought from the old Alhambra Theatre in Leith, Edinburgh more than 8000 rolling miles South to the desolate outpost of Leith Harbour.
This disparate band of hunters have been brought together by a need to escape, be it from family demands, minor misdemeanour or simply a more mundane life. They take their warmth and their pleasures where they can get it and it appears that if the loneliness doesn't get them the drink will. Booze forms a black market currency for our drouthy whalers, rare and rising in value and we are treated to a lecture on the pleasures and perils of home-brewed hooch.
It's a make and mend culture as they devise their own entertainment creating back-stories through Desert Island Discs and This is Your Life and repair strained friendships.
The thread of cinema is kept running through the production with excepts of film and with the gallant band acting out various movie genres from musicals to western brawls. The play is kept light for the large part with high jinks and Para Handy type humour. Scots phrases and sayings pepper the production as do songs, from shanties to doo-wop.
Worse things do happen at sea though and the brutal nature of the whaling industry is trawled up along with the hardships that the men endured, often to return after eight months with barely a living wage.
The cast work hard too, pitching themselves enthusiastically into their roles to provide a vignette of the whaler man's life. The play is meticulously researched and based entirely on first hand accounts of the period. The episodic snapshot scenes form a lens to focus on a near lost part of social history but, while the present-day ending attempts to pull it all together, it lacks that bit of drama that our freezing film fans would crave.
Show Times: 5 to 30 (not 17) August 2015 at 1.00pm.
Ticket Prices: £10 (£9) to £12 (£11).
Suitability: 14+