Image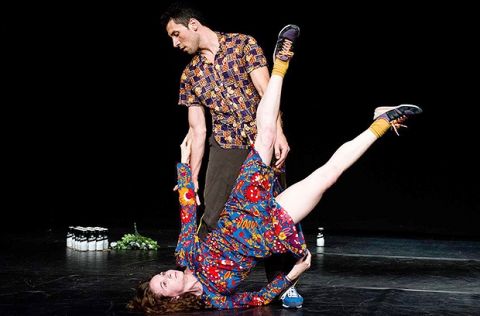 Performers
Carlo Massari and Chiara Taviani (Dancers)
Carlo Massari and Chiara Taviani are the two dancers in Maria Addolorata which in English is 'Our Lady of Sorrows'. And this tightly packed, considered piece explores the moments of suffering which is an inherent part of being human. It was Henry David Thoreau who wrote that we all live lives of quiet desperation. Well for one hour on this stage it's not so quiet and the desperation is palpable.
The dancing is kinetic, strongly physical but also imaginative and flows beautifully from beginning to end. A wide variety of scenes emerge and fade but always a large pack of beer cans, each one being opened at different stages punctuates the performances and acts as a strong motif around which the duo perform.
The interpretation of desperation, pain and sometimes the banality of suffering is successfully achieved through the visceral and other times finessed movements which these two clever dancers have devised. This is the kind of work the Fringe deserves, novel, different, not without humour and performed by artists for whom the medium is important and an essential aspect of their lives.
This show has already won some prestigious awards, amongst them being the winner of the jury prize HiverÔclites 2014 and runner-up jury prize at Wettbewerb für Choreographen 2014.
This is a wonderful performance and worthy of anyone's time.
1-24 Aug, 18:40-19:40; £10/£8/£26 family
Age: PG